MY BEAUTIFUL CREATURES!
PUNCH THE SKY!
TORMUND IS A FEMINIST HERO, GENDRY IS NEKKID AND #BOATSEX IS NO MORE!
Sure, the imminent demise of the entire North is upon us, Bran "Three-Eyed Raven" Stark is about to play Captain Catfish in the Tinderfell Godswood and forget Mance Rayder, Arya Stark just lit THE BIGGEST FIRE THE NORTH HAS EVER SEEN, but wowsers, that in-the-nick-o-time confession from Jon Snow that threw Dany almost to The Wall itself made for buttock-clenching viewing.
I mean, sure, Jon could have just LIED and held off telling the truth until AFTER the carnage. He had been slightly avoiding Dany for most of the episode anyway, and why not just see how the ultimate boss battle plays out first? No need to distract Dany's focus when we all need her and her dragons at Peak Barbeque Readiness.
But as we know from the Dragon Pits last season, Jon Snow is the Al Gore of Westeros - full of inconvenient truths. It's never been My Beloved's style to be backwards in coming honorably forwards, even when, let's face it, his timing could be better. Except for me, who thinks it's perfect, because there's nothing less of a turn-on than finding out not only your bed-buddy is your nephew but has a better claim to Your Iron Throne than you do.

"I have chosen... poorly."
Did you notice? Yes, that's right. I said it. MY BELOVED. Welcome back.
NOW, YOU STAY ALIVE. NO MATTER WHAT OCCURS, I WILL FIND YOU.
Sorry, I just came over all Last of the Mohicans there, which was sort of the Taken of the early 90s with longer hairdos.
Gosh, imagine if you'd never read a Raven On recap before. You'd think I was entirely mad.
Imagine if you HAD read a Raven On recap before. You'd think I was entirely mad.
But mad is as mad does, and we're going to start this week's rocking Raven On recap with some MAD DANCE TUNES.
All hail the Homecoming, for it is Queen Bey we bow to, as we praise our favourite Men of Westeros.
All the Jon Snow ladies (All the Jon Snow ladies)
All the Tormund ladies (All the Tormund ladies)
All the Gendry ladies (All the Gendry ladies)
All the thirsty ladies
Now put your hands up
Up in the crypt, feeling whipped
From trying to save Winterfell
Well, I got the blues, but you gonna bruise
'Cause another brother broke the spell
Lyanna Stark, her story arc
Breaks with normal convention
She cried her tears, but faced her fears
You can't be mad at me
'Cause Rhaegar liked her and he really put a ring on it
Rhaegar liked her and he really put a ring on it
Don't be mad 'cause your face has got Aegon it
Westeros, well I should be the king of it
Whoa, oh, oh, oh, oh-oh, oh, oh, oh, oh, oh, oh
Whoa, oh, oh, oh, oh-oh, oh, oh, oh, oh, oh, oh
'Cause Rhaegar liked her and he really put a ring on it
Rhaegar liked her and he really put a ring on it
Don't be mad 'cause your face has got Aegon it
Westeros, well I should be the king of it
I got milk on my lips, an axe on my hips
There's a giant running through my genes
Kissed by fire, my one desire
The Big Woman to notice me
Jaime's decision, did I mention?
Don't give me apprehension
'Cause I applauded
When she got lauded
And I really think she loves me beardy
'Cause if you like it, then get Pod to sing on it
If you like it, then get Pod to sing on it
We're gonna live so she'll have my offspring on it
Come on Pod, why don't you just sing on it
Whoa, oh, oh, oh, oh-oh, oh, oh, oh, oh, oh, oh
Whoa, oh, oh, oh, oh-oh, oh, oh, oh, oh, oh, oh
'Cause if you like it, then get Pod to sing on it
If you like it, then get Pod to sing on it
We're gonna live so she'll have my offspring on it
Come on Pod, why don't you just sing on it
Whoa, oh, oh, oh, oh-oh, oh, oh, oh, oh, oh, oh
Whoa, oh, oh, oh, oh-oh, oh, oh, oh, oh, oh, oh
Don't treat me like I'm wearing skirts that twirl
I'm not that kind of girl
Your love is what I prefer, as much as murder
Before death comes to take you, I shall shake you
And deliver you to your destiny, thanks for my new magic wand
Petite mort we now dance
Say, you're still wearing pants
I swear I'll use no leeches
If you just ditch your breeches
All the Jon Snow ladies (All the Jon Snow ladies)
All the Tormund ladies (All the Tormund ladies)
All the Gendry ladies (All the Gendry ladies)
All the thirsty ladies
Now put your hands up
Whoa, oh, oh, oh, oh-oh, oh, oh, oh, oh, oh, oh
Whoa, oh, oh, oh, oh-oh, oh, oh, oh, oh, oh, oh
Whoa, oh, oh, oh
'Cause Rhaegar liked her and he really put a ring on it
'Cause my origin has got quite a sting on it
Dany's mad 'cause her face has got Aegon it
But Westeros, well, I should be the king of it
Whoa, oh, oh, oh
'Cause Jaime knights her and her smile's all bling on it
Fight's a-coming and Pod will sing on it
The God of Death says might as well fling on it
Gendry made a weapon now go swing on it
Whoa, oh, oh

And that's all without mentioning Señor Narrativa de Redención himself, Jaime Lannister, who demands a few thirst-quenchers in his own right.
S8E2: A Knight of the Seven Kingdoms
I know I began with a fair bit of fan fanfare, but this episode could also be called "All Quiet on the Winterfell Front". It's a pre-war war movie, in which people made up for quarrels that seem so remote now, talk about hopes for a future they will (gulp) likely not have, and say their farewells to loved ones without ever actually using the phrase "goodbye".
So yeah, Cersei's non-existent elephant in the room is... not *that* much happened.
But dammmmmnnnnn, we are going to get slammmmmmmmed with death next week. I hate the thought of it, but they prepped us good and hard. Tyrion, Tormund, Beric, The Hound and Arya were just some of our favourites to ruminate about impending doom. So for gods' sake, let us sit upon the ground and tell sad stories of the death of kings, at least until The Hound threatens to throw us off the f***ing battlements. Next week we'll get plenty of action.
Oh wait…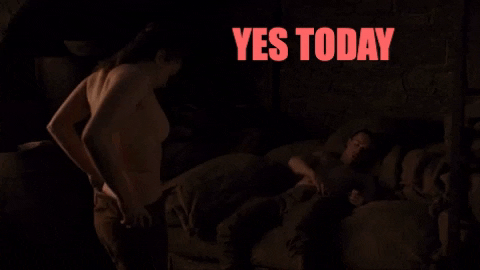 All in good time, all in good red-hot-Gendrya-hook-up time.
For now, let us muse on the line that Tyrion says to Jaime midway through the episode: "The perils of self-betterment". This for me carries through for all of our characters; from often murky, self-serving and/or treacherous beginnings, they forged alliances, learned from mistakes and now stand at the edge of the world ready to die. Becoming a better person might give you a moral salve, but as Tyrion further remarks, you might end up being torn apart by dead men for your troubles.
Someone who may be in need of rapid personal growth is Daenarys Targaryen.
She begins this episode as she ends it: PISSED. OFF.
Jaime Lannister is responsible for the death of her father and numerous other crimes Daenarys would consider treason. Now he's brought the news his one-time lover/close genetic relative Darth Cersei has given them a bigger royal brush-off than Megan Markle's Dad. There ain't no Lannister forces coming to help fight the army of the dead; just one man with one hand.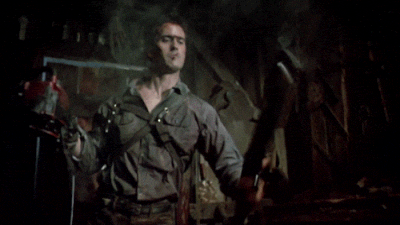 He's not even this useful.
Tyrion pleads on his brother's behalf, but given Jaime's history with the Starks, it's no surprise Sansa is onboard with Dany's plan to hobble the Kingslayer permanently. It's only when the GLORIOUS WONDER that is Brienne of Tarth gets up to defend him, that Dany finds herself on the outer.
Brienne describes Jaime as a "man of honour" - a touching callback to the time in the Harrenhal bathtub when she called him out as a "man without honour" before he explained the tragic events leading up to his king-slaying moment, and their whole relationship began to change.
Sansa trusts Brienne, and so if she vouches for Jaime, that's good enough for her. Jon Snow, ever practical, only cares about the body count that can help reduce the body count.
(Sidebar: it's interesting that Jon and Sansa seem to have reconciled titles for the moment; he is the Warden of the North and she is the Lady of Winterfell. Every kid gets a prize!)

Jaime looks rather adoringly at Brienne, and with good reason. He later says he used to be Tyrion's only friend; in fact, Jaime didn't really have a non-related friend either, until Brienne. Brienne though, keeps her gaze firmly on Dany and Sansa; if she were to look at Jaime who knows what OUTPOURINGS OF LOVE might spill forth. Actually, there probably wouldn't be anything, just more repression. Brienne is at such Jane Austen levels of broody we may as well dub her Mr Tarthy.
There's a moment when Bran chirps up with the old "The things we do for love" rejoinder, which floors Jaime, but which everyone else seems to treat like Bran's attempt to start a 10cc karaoke singalong and ignores.
Dany is forced to accept Jaime's heartfelt apology and pledge to fight on the side of the living. Tyrion breathes a sigh of relief, and with not much of a word, Jon nopes out of there. Dany stalks out, with Tyrion readying himself for the oncoming tongue-lashing, a very different type to those received earlier in his career.
Predictably, Dany is so cheesed off it's almost too much to camembert. Tyrion decries himself as a fool not a traitor, but Dany says his recent run of foolish decisions means she might be in the market for a new Hand of the Queen. Jorah and Varys have some visible sympathy for Tyrion, whose voice near trembles when he says one of them might be wearing the badge soon enough.
Jaime begins his Winterfell Apology tour, making the rounds to atone for some of his sins. He interrupts Bran interfacing with the weirwood tree to say soz for the pushing and the paralysing. But, as I predicted (sorry to brag, but if you can't give yourself the odd pat on the back, what's the point), Bran's nonchalant about his Lannister-inflicted loss of limb function. "I'm not angry at anyone," he deadbrans, proving he's on some sort of supernatural sedative (Diaze-bran?)
Branadol tells Jaime he needed him to fight the White Walkers, not be murdered, which is why he didn't dob him in. Jaime's interested in what might follow the battle. "How do you know there'll be an 'afterwards'?" Bran responds, confirming to Jaime that he really isn't Bran anymore, because sure, Bran may have spied on Jaime rooting in the tower back in the day, but that wasn't nearly as creepy as now.
Jaime wanders back into the courtyard to meet his lil' bro, still smarting from his dressing down from Dany. He tries to convince Tyrion that Cersei pulled the wool over his eyes, but Tyrion says Jaime let Cersei get the leg over him.
Tyrion's cranky he underestimated Cersei; but Jaime confirms that she is, in fact, preggers, a question that's been doing the rounds since last week's episode intensified theories that she might just be making the whole baby thing up.
There's a lovely moment when Tyrion calls back to when he was trying to convince the Hill Tribes of The Vale not to murder him, saying he always pictured dying in his own bed, with a belly full of wine and a women's mouth wrapped around his, well, downstairs chicken. Jaime joins in on the quote halfway through; clearly an old joke between the pair long before the events of the show began.
Tyrion gets a bit ironically bleak, picturing himself being ripped apart by dead men to deprive Cersei of that honour, then marching on King's Landing to do the same to her. But Jaime has eyes for someone else… the MIGHTY PRINCESS, FORGED IN THE HEAT OF BATTLE, SHE WAS XENA… no, wait, sorry, my other favourite ass-kicking hero, Brienne of Tarth.
Things have gotten quite… tender… between these two, in a way that only YouTube mash-up fanfic can capture.
As the trenches are dug outside the castle walls, Brienne is watching Pod help train other fighters, and quick sidebar to say HELLO, PODRICK PAYNE, I'M STARTING TO SEE WHAT ALL THOSE GIRLS WERE KEEN ON. Seriously, Brienne's specialised form of H.I.I.T training is paying off.
Jaime tries to be respectful, but Brienne can't believe the old sarcastic Jaime will burst out with another insult like all the other boys. The Kingslayer is genuinely trying to be a bettter dude, and is not joking when he steps down in status to simply be a soldier at her command. Brienne is touched, although not quite as golden-hands-on as I would like.
Goodness, why am I SO onboard the Jaime traime? He was SUCH an INCESTUOUS GIT early on, but he's turning more noble than Don Quixote, and I can totally understand why Brienne might want to tilt at his windmills.
We'll get back to those two and their fireside moment later, because it's a KNIGHT TO REMEMBER.

"Congratulations on your 659th Terrible Pun."
Ser Jorah Mormont now seems to be in the pinnacle position of his career, and one he would have thought impossible a few seasons ago: being the only person who can make Daenarys smile.
It's Jorah, using his many years of very personal experience, who suggests that as Dany forgave him, perhaps she needs to forgive Tyrion for his muck-ups. Jorah says his heart was broken when he found out Dany had appointed Tyrion Hand of the Queen over him, even though he was off in the Citadel being de-scaled by Sam Tarly. But he now thinks she made the right call, and even though Tyrion's a motor mouth he often wished he could throw into the sea, he is the right dude to be by Dany's side, because he learns from his mistakes. AND LEARNING FROM MISTAKES IS GOOD, DANY.
He has another suggestion too: Girl Talk with Sansa Stark.
This scene was a beautifully played chamber drama, with the stakes tipping back and forth and back again - and not in Dany's favour.
Sansa reiterates her trust in Brienne re: Jaime, and backs Tyrion as a good man. Dany's still a little bit peeved, wanting Tyrion to have been ruthless not good, but Sansa points out nobody should have trusted Cersei, even Dany.
Sidebar: Can I just reiterate again how much I love that Game of Thrones has these big, momentous events - that sometimes turn out to be giant mistakes? We were all so excited for the Dragon Pit sequence at the end of season seven, and sure, it was a great spectacle, but really, had Jon sent a raven to Sansa after capturing the wight up north, she would have told him straight away that Cersei wouldn't give a shit, and to hightail it to Winterfell without buggerising around down south. Arya is right: Sansa really is the smartest person in the room.
As I grow older, it's the one thing that becomes clearer to me - that the world is just full of people either learning or not learning from previous mistakes. And because it's impossible to soak up all possible mistakes made by all sorts of people, it's no wonder we repeat them. Throw in different types of personality conflicts and it's a small miracle that humans have things like wheels and hospitals and sprawling multi-arc fantasy television series.
Sansa softens towards Dany a little when the Dragon Queen highlights their shared victories - being leaders, being women leaders, and being damn good women leaders. But what could POSSIBLY be cock-blocking their friendship?



"Who has two thumbs and is THIS GUY?"
Sansa doesn't hold back telling Dany she thinks men in love can be easily manipulated. But Dany fires back, Targaryen eyes flashing, that all she has wanted is the Iron Throne, and yet here she is in the godforsaken north about to risk everything she's worked for to potentially die at the hands of some crypto-fascist zombie climate polluters. "Who's manipulated whom here, Sansa? Huh?"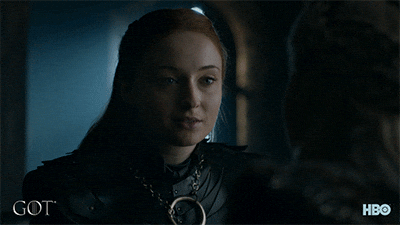 "Men, am I right?"
Sansa concedes the point and the glacier between them seems to thaw again. But then Sansa queries what will happen to the North if the battle against the dead is won and Dany takes the Iron Throne. "WHAT ABOUT THE NORTH, DANY? WHAT ABOUT IT?"
Dany's face, so smiling and warm a moment before, turns icy again. The Wall goes back up between them.
Luckily an attendant enters just before the WWE-style scrag fight can begin.
THEON'S ARRIVED.
Dany takes his return quite calmly, even though technically he abandoned the fleet he and Yara had pledged to serve her when Euron attacked. But hey, at least he rescued Yara, who's on her way to claim back the Iron Islands.
Sansa is a quiet presence in this exchange until Theon declares he wants to fight for Winterfell. I must admit I wasn't expecting as much emotion from Sansa, as she flings herself into his arms, tears in her eyes.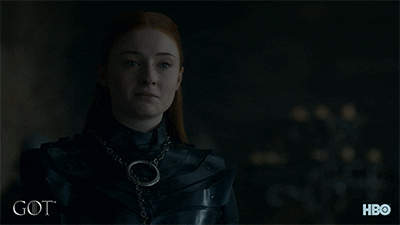 Theon ruined life for the Starks for a few seasons there, but he saved Sansa's life from BOO HISS Ramsay Bolton. It's an example to Dany of what gaps Sansa has had to bridge to forgive; gaps wider than, say, Tyrion under-estimating Cersei.
Ser Davos Seaworth's Soup Kitchen is open for business, serving the finest bowls of brown in the North. The Onion Knight's job is to tell reluctant refugees that they're going to have to fight, as may as well head to the forge to get suited up.
There's a sweet moment with a young girl with a scarred face, bringing to mind lost little Shireen Baratheon. She wants to fight the zombies, but Gilly asks her to come to the crypts to protect her and Baby Sam. The girl accepts this proposal, and hurries off with her food, just as a horn sounds.
TIME FOR A HAPPY REUNION!
Jon rushes over to embrace Dolorous Ed from the Night's Watch, but before he can get there, is crash-tackled by everybody's favourite everything, TORMUND GIANTSBANE.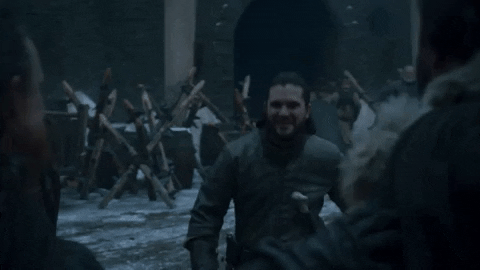 "Charge!"
There are hugs all around, and it's genuinely charming to see Jon Snow smiling. Like with his face. You can see his teeth. The gang's all back together - at least until dawn the next day, which is when the Night King is bringing his Endless Rave to the gates of Winterfell. Of course, Tormund has his priorities right - is The Big Woman still here?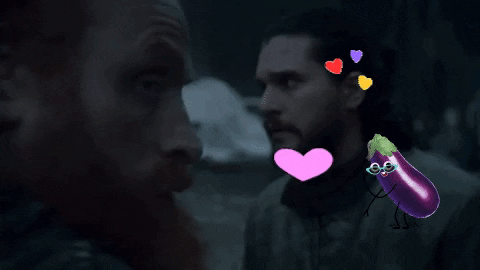 It's time for Everybody We Love in The Known Universe (Except Bronn) to gather for a Giant War Room Tabletop Strategy Meeting.
I actually got goose flesh seeing so many of these dearly loved people all standing together preparing for what could be a final stand.
Jon thinks their best chance is taking out the Night King, which should cause all the others to cark it, but it's Bran who realises he will be the key to victory, as the Night King will be coming for him.
We've been trying to figure out what the Night King actually wants for about four seasons, but it appears to be nothing more complex than deleting Bran's internal hard drive. I once fried a motherboard by tripping and accidentally throwing a full glass of Pepsi Max over my Mac, but I'm not sure if the Night King's thought of that cunning plan, or if Bran is susceptible to attack by cola products.

Oh, that is in very poor taste, shame on you.
Sam says it's more than just erasing memory; it's about erasing the humanity that memory creates. Bran's plan is to park himself in the Godswood and dangle his big juicy all-knowing humanity-inspiring brain out as bait.
Sansa and Arya aren't up for that idea, but Theon quickly shows you don't need testicles to have balls. He volunteers to be Bran's bodyguard, explaining "I took this castle from you. Let me defend it now." Again, another flawed Thrones character who it's just become too hard to hate. There's a moment while everyone accepts that Theon is going to die, a few quiet coughs, then planning continues.
Tyrion says he and Davos will be on the walls to give a signal for Jon to light the trench (ooooh, foreshadowing!), but Dany's having none of it. Tyrion may be keen to fight alongside everyone else, but he's also the smartest adviser she's got. With Jorah listening, Dany indirectly apologises to Tyrion for ranting at him, and says he must stay in the crypts so at least one brain survives to help post-battle. Well done, Dany, that seems to be a decent bit of tempering your temper.
The group hopes dragon fire will assist, but the dragons can't be too far away from Bran. Arya questions whether dragon fire will defeat the Night King, but Bran's like "Dunno, mate, no bastard's ever tried, but first time for everything, ay?"
"We're all going to die at Winterfell," chirrups Tormund. "But at least we die together!"
He's ever the optimist our Tormund, hoping this last ditch pitch might sway Brienne to climb aboard his ginger love beard for the evening. But as always, she's just mildly disturbed by his penetrating gaze.
Jon urges everyone to get some rest, but nopes out on Dany once again, refusing to meet her eyes as she clearly was hoping for a late night snuggle post battle-planning. It's a moment Tyrion notices and notes, before pulling up a chair and asking Bran to spin him a yarn about his bizarre career change.
It's then that the goodbyes begin.
Grey Worm tells Missandei he's loyal to Dany, but once she's won the battle and the Iron Throne, he's keen to pack up and just take a vacation. Missandei is not averse to the idea of a Contiki tour to her homeland of Narth, and Grey Worm is confident his men will bring the muscle. It's a benign, couple-y type of conversation, the sort of other plans you make while life is busy happening.
Jon and Sam keep watch on the battlements, something they would have done time and time again at Castle Black. They're joined by a white dog which surely, SURELY, can't be Ghost?!?! He looked too small to be Ghost. The last time we saw Ghost was in season six, and he was much bigger. I know Ghost was the runt of the litter, but he was still a direwolf. What's going on?

Don't tell me this is a Milo & Otis situation.
Sam ribs Jon about not yet dropping his origin story bombshell on Daenarys, but Jon is not here for his "biding your time" jokes. Dolorous Ed joins them, and Jon suggests Sam join Gilly and Baby Sam in the crypts. Sam's ego is dented by this slight on his physical ability - after all, he was the first dude to dust a White Walker in the current era. He also stole a bunch of library books, he'll have you know, and he's capable of zinging Ed about his lack of boning action.
"Sam Tarly, Slayer of White Walkers, Lover of Ladies. If we needed any more proof the world was ending." Ed Tollett really is the driest son of a bitch this side of the Narrow Sea.
The trio remark on how they're the only ones left from the Night's Watch, and pledge that any survivors burn the corpses of the others.
We travel now, ladies and gentlemen, to the Great Hall, where the Brothers Lannister are enjoying an aperitif or seven before the final fight. After all, who can sleep? Tyrion would like to see the look on their father's face, to see both of his sons facing impending death defending Winterfell. They reminisce about the good old days, which weren't that good, really, what with all the sister-shagging. But they've come a long way, with Tyrion also giving up his shagging habits. So here they are, two celibate bros, about to die for a woman from a rival house. Now that's progress.
Brienne and Pod show up, looking for somewhere warm to "contemplate their impending deaths". Brienne allows Pod half a cup of wine, but Tyrion of course fills it up for his one-time squire. Davos rushes in to embrace the fire; and I love the fact that he stood immediately with his back to it, which is EXACTLY what I do if I'm somewhere cold and want to warm up. The butt must come first.
Tormund prowls in next, with eyes just for Brienne. This moment with Tormund is one of the greatest virtuoso comic performances I've ever seen, and this is a character rich with them. His story about the origins of his Giantsbane name are hilarious, and the way he caps it by downing a full horn of Farmers' Union Iced Coffee is spectacular.

Once again, thank you, Reddit geniuses.
The rest of the cast watch on in the most delightful confusion, until Davos relents and says maybe he will have a drink after all.
Tyrion remarks that most people in the room have fought against the Starks at some point, but here they are now, all together, fighting for them. He also lets a glimmer of hope in, and starts to think they might live. After all, they have each survived many battles - I loved Jaime pointing out he was the "fabled loser" of the Battle of Whispering Wood. Tyrion misnames Brienne as Ser Brienne, and she has to explain to Tormund that women can't be knights.
Why not? Tradition. "F*** tradition!" declares Tormund, instantly rocketing to the top of the Feminist Hero charts. Brienne's like "I don't even WANT to be a knight", and Pod shoots her the best "Bullshit!" look in the show. Tormund, ever out to impress Brienne, says he would knight her ten times over if he were a king, and one imagines there's some subtext to that offer.
It's Jaime who brings the conversation back on track. "I'm a knight, I can make another knight," he says, bringing up a rule I wasn't really aware of, but maybe it's a special Westerosi tradition.
Brienne doesn't move at first, and it's not hard to see her processing whether this is yet another bad joke at her expense. But Jaime is serious, and she kneels before him. Citing the Warrior, the Father and the Mother, he charges her to be brave, just and defend the innocent (Well Ser Gregor Clegane never took that oath to heart). "Arise, Brienne of Tarth, a Knight of the Seven Kingdoms!"
Applause breaks out, and no one is more enthusiastic than Tormund, clapping his great paws together like the bear he allegedly once copulated with.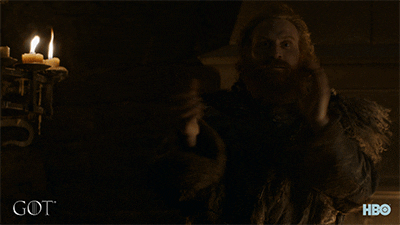 But Brienne's eyes shine with love at Jaime, and he recognises that light. He sees in her the kind of knight he wished he could have been, the kind of knight who would fill the pages of those dusty biography books back in King's Landing that had his major achievement of note as being the "Kingslayer". His father Tywin once told him a lion doesn't concern himself with the opinion of sheep; but in this moment Jaime realises that is totally wrong. Brienne has given him the standard of knighthood he should have had all along; it is her gift to him. His knighting her is but a small recognition in return.

"This is the first time I have ever smiled in my life and it HURTS my FACE."
Down in the courtyard, we FINALLY see Ser Jorah Mormont talking to Lady Lyanna Mormont, his cousin and BETTER. He's gently urging her against fighting in order to protect the future of their house, but Lyanna is like "Sorry, cous, duty calls, and I've got some zombie ass to kick."
Lyanna wishes him well and stalks off, leaving Sam to fill the conversational gap. He's brought along the Tarly Family Sword he stole from Dad Randall before the old grouch got roasted more savagely than Barnaby Joyce at a summertime outdoor Family Values conference with happy hour rum cocktail specials.
Sam wants Jorah to have Heartsbane (Heartsbae, remember?!), because he basically can't even lift it, and it would make sense to have a kick ass fighter be armed with Valyrian steel in this take-no-prisoners battle royale. Sam also has Jorah's dad Jeor for helping him in the Night's Watch, and Jorah says he will wield it in the old Bear's honour.
Now this, I think, marks a full circle for Jorah. He's given up any claim on Dany's affection, told her she's right to trust others, and now has had his honour restored. He betrayed his father and was not entitled to Longclaw, but now Sam, a protege of Ser Jeor, has closed the gap.
Which means Ser Jorah is likely to be No More-ah next week. I know, I know, he's stuck around this far! But if I had to bet on one character carking it in the battle, I would throw those golden dragons on Ser Jorah. I'M SORRY, JORAH THE ANDAL. I have loved your gravelly voice and devotion beyond measure and that yellow shirt you don't wear anymore because it got too sweaty. I will remember you, I promise.

"Look at the stars, look how they shine for you"
Let's talk GENDRYA, which was the hook-up we all wanted, and yet were strangely uncomfortable with.
The foreplay starts with forge-play, as Arya visits Gendry all sweaty at work, demanding he hurry up and finish her specialty weapon (ooer). She wants to know what the White Walkers and wights are like, and the best Gendry can come up with is that they're like Death, coming at you. Arya casually describes how she knows Death, and how it has many faces, and she's super chill to meet this one, all while flinging dragon glass knives at the wall like she just escaped a circus. Gendry is like "Cool, well I'll get right on that weapon, then, you strangely flirty nutbag."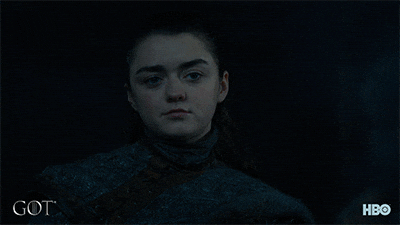 "It is hot in here, and I'm not talking about the forge."
Later Arya chills for a bit with the Hound on the battlements. He's confused by her newfound stoic silence, which replaced the non-stop nattering she used to do when travelling with him. Beric Dondarrion soon joins them, having returned with Tormund. He's still a believer in the Lord of Light, even if the Hound reminds him that Thoros of Myr is dead and the Lord of Light will be pretty pissed to have brought Beric back 19 times only to see him be flung over the castle walls by the Hound for trying to pray.
All this is nice, and all, but Arya isn't keen to spend her final few hours on earth with these miserable old bastards. What, and miss out on that sparkling Hound banter? Yes, because she's got a better idea about how to employ her mouth.
Obviously knowing he would magically locate her, Arya practises with bow and arrow in what seems to be a grain storage room, judging by all those sacks piled around the room. Gendry shows up with the new weapon, which Arya judges as being good enough. She then subjects Gendry to a series of emotionless questions about The Red Woman, better known as reclusive singer-songwriter Kate Bush. Gendry gets all flustered as she pumps him for information on what she wanted with him; and to her credit Arya is actually surprised when Gendry confesses he is Robert Baratheon's bastard son. But then, Robert had a son, Ned had a daughter. It seems this is the real way they'll join their houses.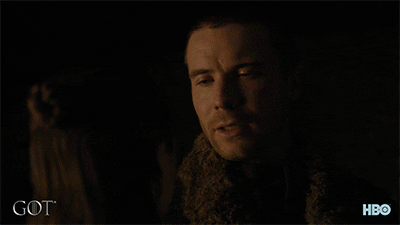 "We may both die tomorrow; I ought to know what it's like," Arya declares, before jumping Gendry. "I'm not the Red Woman," she says as she disrobes. "Take your own bloody pants off."
Yes, Arya is a grown woman, but she's still a LITTLE GIRL! We've watched her since she was 12, and NOW LOOK THERE'S SOME SIDEBOOB. It's awesome and empowering for the character, but awkward for us as viewers. I'm sure I'm not the only one who blushed and did some mental arithmetic around their ages.
For a cherry-popping scene, it was intimate and cosy, but hey, I guess it was a nice time to show the joy of sacks.
Back at the big fire party, Tyrion's keen for a song, which you know is the sign when everyone should pack up their eskies and head home. Nobody's stepping up until Pod opens his mouth and starts warbling a tune about a girl named Jenny dancing with ghosts (or possibly goats, who knows). The man has a golden tongue, after all, I shouldn't be surprised he has a golden voice.
The maudlin melody prompts more introspection from our late night partygoers, and opens up to a montage of where everyone else is: Sam and Gilly deep in shared thought as Baby Sam sleeps between them; Sansa and Theon having a last meal as friends; Arya pondering her first sack race while Gendry sleeps; Grey Worm kissing Missandei before leading a column of Unsullied out to prepare; Ser Jorah checking the defences on horseback. The final refrain of the song is "never wanted to leave" repeated over and over, a reminder that all these people are making sacrifices they'd rather not, but do out of duty.
Finally.
The crypts.
Dany ventures down to find Jon Snow standing in front of the statue of Lyanna Stark. She reaches for him, but he makes no move to embrace her. She's awkward as she tries to understand how her brother Rhaegar, famed for being kind and artistic, could also have raped Lyanna.

"I swear to the old gods I did not get this from InfoWars."
"He didn't," Jon says, the first blow struck at the lie that has held the Seven Kingdoms in its grip for more than 20 years.
"He loved her. They were married in secret. After Rhaegar fell at the Trident, she had a son."
In an echo of Sam telling Jon the truth last week, the camera stays on Dany's face as she takes it in - the threat to the child, Ned's promise to Lyanna, Jon's real name of Aegon Targaryen.
Dany is disbelieving. A secret nobody knows - except Jon's brother and best friend? But it is true, Jon says, the acceptance in his voice. It must feel right to him, despite last week's shock upon hearing it. All this time, his whole motherless life - his mother was underneath him at Winterfell all along. Suddenly his inside-but-outside life made sense. Not that he necessarily wants to be the King, of course, but in true Jon Snow-style, the truth is always his best path.
"You would have a claim to the Iron Throne," is the last statement Dany utters before the horns herald the approaching army of the dead. Jon turns at the sound, but Dany's gaze is still on him, steely. In just a few moments, her whole identity has changed; and she doesn't have the luxury of a day or two to get used to the concept before charging into war.
The pair join Tyrion on the battlements, and once again he notices the emotional space between them. But they rush off to get in position, leaving Tyrion still on the wall, staring down the massed army of doom.
Out in the snow, the White Walkers on horseback line up side by side, at the head of their mighty army. There is no sign of the Night King; waiting further back on Ice Viserion, perhaps?
Either way, everything's changed, and nothing will be the same again. Let's hope the work our characters have done to survive stands them in good stead at this moment.
Valar Morghulis.

Yay! Best Moments
Tormund crash-cuddling Jon as he's trying to hug Dolorous Ed is a memory I will retreat to whenever I need a happy place.
I'm not sure if he really is a bear-f***ker, but there's no doubt he's a bear-hugger.
He also claims the title of Most Disconcerting Milk Drinker since Robin Arryn, and that whole sad drinking and knighting scene was glorious.
Zing! Best Lines
So much of the Arya/Hound/Beric banter was great, but I think I have to go with the girls:
Dany: I'm here because I love your brother, and I trust him. I know he is true to his word. He's only the second man in my life I can say that about.
Sansa: Who was the first?
Dany: Someone taller.
Eww, gross
With no Cersei or Euron this episode, there really wasn't that much to get grossed out by this episode. A brief reprieve, perhaps, before the inevitable.
Boo, sucks
SO MUCH DEATH TO COME OUR WAY MY BODY IS NOT READY.
----
Finally, a random thought that occurred to me, and gave me a certain degree of strength facing down next week's likely bloodbath. A metaphorical stiff dram, if you will.
I've never known the origins of the name "Winterfell", and I'm certainly not going to look into it now, lest it ruin my sense of self-satisfaction at finally coming up with a potentially possibly plausible theory.
But what if the location of the Winterfell fortress was chosen because it's literally the place where winter… fell? Perhaps this is the location of the defeat of the White Walkers the last time round, more than one thousand years ago? I know Bran the Builder, one of the early Stark kings, built both The Wall and Winterfell. Perhaps the name has been giving us the answer the whole time - that this is the place where winter - aka, the Night King - falls?
Again, there are probably 549 YouTube channels with deep dives already on this theory, but I'm terrible at foreshadowing, so dang it, I'm proud of myself.

Thank you to everyone for reading, but in particular my gorgeous Patreon subscibers, including:

Kym W, Seakla K, Rebecca C, Nick, Mark B, Victoria S, Rachel H, Nay, Rhino, Tarryn K and Vicki R.
I couldn't do this without your support - if you are able to chuck in a few bucks' to my Patreon, you can find out more details here! As always, it's only if you are able to!

Don't forget, if you're in Brisbane, you can come and see Stu and I record our Raven On podcast LIVE every Tuesday night at the Brisbane Powerhouse. It's FREE! Details here.
19 Responses to 'GoT S8E2: "A Knight of the Seven Kingdoms"'
