What do we say to the God of Death?
NOT TODAY.
To be fair, for thousands of people it actually *was* today, given the catastrophic death count from the Battle of Winterfell. For the Dothraki, the Unsullied, the Knights of the Vale and other ragtag members of the Winterfell Massive, it wasn't quite a perky occasion.
But still.
THE KING IS DEAD.
LONG LIVE…. THE QUEEEEEEEEEN!
Yes, in a metaphor for what Swedish teen Greta Thunberg is trying to do in real life, our own murder baby stuck the pointy end into Captain Climate Change himself.
Sure, the Night King was more a baby doomer than a baby boomer, but I'm sure he's still the kind of guy who would bitch about young Westerosi people and their smashed avo toast while driving a 4WD he never even takes off-roading.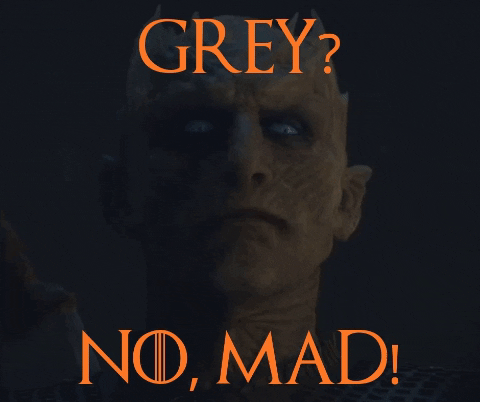 After all this time, he's gone, and along with him the entire White Walker threat. The world, it seems, has been saved from never-ending winter. Memory and truth have been protected. Humanity has lived to see the light of dawn.
And yet, I HAVE A LOT OF F***ING QUESTIONS.
Why did the Dothraki charge the walking dead? Surely somebody could have worked out that was a terrible use of resources?
How did the resurrection in the crypt not claim more lives? Confined spaces and all that?
Where the hell was Bran when he was warging? We saw him disappear into ravens and/or crows - but then what?
What did the Night King really want anyway? Was there *any* deeper purpose beyond "f*** shit up just 'cause"?
And most importantly...
HOW IN SEVEN FLIPPING FLAMES OF F*** DID SO MANY FAVOURITE CHARACTERS SURVIVE THAT NIGHTMARE?
Let us look to the sky, Hunger Games-style, to pay tribute to our valiant dead: Dolorous Edd (bittersweet tears); Lyanna Mormont (F*** YEAH BUT NOOOO); Ser Beric Dondarrion (service rendered, salute); Theon Greyjoy (weeps openly), Ser Jorah Mormont (timely, apt, totally in character, but still - NOOOOOO) and Melisandre (hey girl, where you been? Oh nope, never mind, save the day then collapse, keep the mystery).
But also…mark the survivors, many of whom were in real danger yet made it through: Grey Worm; Brienne; Jaime; Pod; Gendry; Sam Tarly; TORMUND GIANTSBANE?!?!
We were LUCKY, people. LUCKY.
Which means it's either all over in terms of character stakes, or there are going to be some QUICK and CHEAP deaths in the final three episodes to shock us.
Now if super-tragic-show-fan-Mother-of-Kittens-me is reflecting on these questions, and the possibilities versus realities, I suspect there are going to be hundreds of book wonks and deep dive theorists upset that some of their more elaborate conspiracies didn't pan out.
Or at least, didn't pan out YET. Who knows, maybe Bran really WAS the Night King, and that final stare-off between them was Bran saying "It's OK to die, I will carry on your work" and Bran will warg into Cersei and make her throw herself off the roof of the Red Keep...
My point is I understand if there is some frustration with this episode, particularly in the immediate aftermath, before we see what happens next.
The Big Bad has been conquered; surely that was all we were building towards?
I posit that yes, it was - but primarily for the North. For Jon Snow, the Night's Watch, the Free Folk and Bran storylines were always intertwined with The Great War. Other plots/characters were folded in along the way - Melisandre, Daenarys, Tyrion, Jaime, and to a lesser degree Sansa and Arya (being Starks, they were always going to end up there, but had detours).
For the North, the war against the White Walkers was the alpha and omega.
For Cersei, bitch don't give a shit. She ain't never given a shit.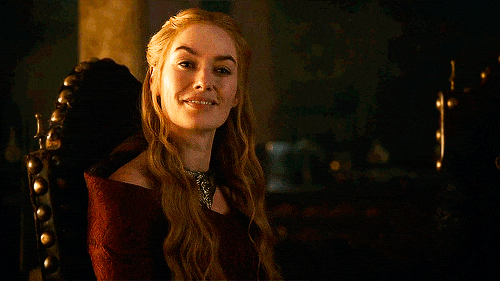 "And this is my sincere face."
While Jon was getting acquainted with shuffling undead zombies at Hardhome, she was getting in too deep with the mindless zealot zombies of the Faith Militant. Cersei's focus has always been on the meat sack side of history. In fact the only bit of supernatural interference in Cersei's life has been that damn Maggy the Frog prophecy about her kids all dying and being eventually offed by a younger brother.
And who even knows if Maggy the Frog was real; or just making stuff up like that dodgy tarot card reader I once got a free sitting with (I wouldn't have done it if I'd had to pay, believe me), who made me draw three cards and told me "Looks like there are good things ahead for you" and hello, buddy, tell me something very specific about lottery numbers or winning horse names or what's the point of you?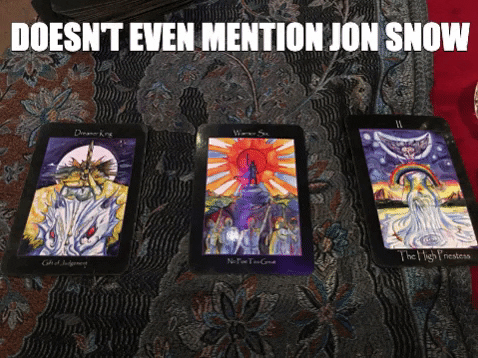 So for Cersei, and her related plotlines: the War of Five Kings; the internal bitchiness with the Tyrells; the Faith Militant; dealing with foolish allies like the Freys and Euron Greyjoy; making false promises to the Jon/Dany alliance; losing Jaime; her loosening grip on motherhood and subsequently her own humanity - all of that is very much of this earth.
Yes, the book series is called A Song of Ice and Fire, a more poetically fantastical title.
But the TV show is called Game of Thrones. And it looks like now The Great Game, NOT The Great War, was always what counted most.
Now this is all just a thought bubble I've blown out of the bucket of detergent that is my brain. I understand if some want to rant about the White Walker storyline not culminating in something… more. Indeed, as I said above, there's a frustrating mystery to Night King and his goals that has me grinding my teeth like I'd grind Jon's… nevermind.
Prussian military theorist Carl Von Clausewitz's famous philosophy holds that war is the continuation of policy by other means. In the case of this show, perhaps it's the other way around - that politics is the continuation of the war by other means.
Also, maybe we could just be happy that a sprawling battle meant there was absolutely no time for funny business between Jon and Dany, and you know I am always onboard them not getting onboard.
All right, let's get on with the horrorshow.
S8E3: "The Long Night"
A long night indeed, with a running time of 82 minutes, making this the longest episode of Game of Thrones yet, and the longest battle sequence ever filmed. Pretty impressive stuff, and I want to start by acknowledging the crazy talents of the production team to make it happen. There have been complaints about the darkness of the fight scenes; again I can appreciate that, but there is no doubt this was a ballet of grim spectacle and a technical achievement that should win ALL the Emmys.
The highlight of course was Arya's victorious ninja attack, which makes it hard to work out how to recap such a rapacious, rampaging battle when its final result was so remarkable.
I think, because of the breakneck speed of action, what follows is going to be part play-by-play commentary, part stream of consciousness, and part narration for the visually impaired. It may help to read it aloud in the voice of some frenetic meth-fuelled sportscaster.
Wish me good fortune in the battle recap to come.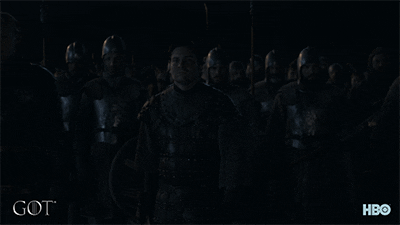 ~~~~~
Welcome to Winterfell and what looks like a perfect foggy, moonless night in which to launch a last-ditch defence of humanity.
In the pre-dawn, the Winterfell forces are readying their positions. Tyrion Lannister picks up a swag and heads to the crypts; Theon and the Ironborn push Bran to the Godswood past the courtyard caltrops.
Ser Davos Seaworth stalks the battlements, Sansa and Arya wait and watch. The air is quiet; even those dragons are keeping schtum.
The Unsullied stand as one, a world away from their origins as slave warriors in Essos, about to fight an enemy so different to what they would have expected from their training. Grey Worm is at the head; after fond talks of beach holidays with his best girl Missandei, he's a big risk of falling on the field tonight.
The line-up for Team Winterfell continues to impress: Pod, commander Brienne, and new recruit Jaime Lannister on the left flank; the Hound joining Tormund and Beric on the front line; Sam Tarly squeezing his way forward to join Gendry and Dolorous Ed, who welcomes him with the episode's apt first spoken words, "For f***'s sake."
Ser Jorah sits astride a horse out front with the Dothraki vanguard, a seemingly-much-bigger-than-last-week Ghost alongside him.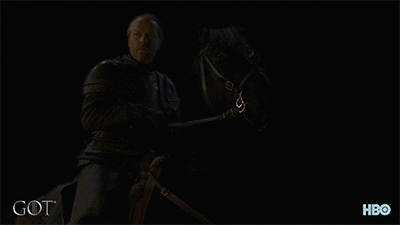 There's a shot of an awkward Jon and Dany before they mount Drogon and Rhaegal (thankfully not each other, no time for love, Dr Jones) and fly off silently to a nearby bluff to watch the action below.
All are readying for the coin toss and kick-off.
But what's this? Out of the gloom, a lone rider approaches the defensive position.
It's KATE BUSH! The reclusive singer-songwriter hasn't been seen since the beginning of season seven, working her contacts to bring Jon Snow and Daenarys Targaryen together as part of a Lord of Light brand merger initiative.
It's unknown when the Red Woman transferred to Winterfell. It's possible she's a recent arrival; perhaps she's been there for the pre-season, just camped out creepily in the snow drifts waiting for the right moment to sneak back into the team.
That right moment has now become a LIGHT moment, am I right listeners, as she's had Ser Jorah instruct the Dothraki to raise their arakhs, over which she casts a spell and sets them all ablaze.
Ser Jorah of course is playing this match with Heartsbane, the Tarly family's Valyrian steel sword, so even though his weapon doesn't light up (saddening some fans of the long odds Ser Jorah-is-Azor-Ahai bet), he doesn't need it to play ball here tonight.
It's a beautiful sight as the flames travel across the Dothraki horde, giving us a moment of sparkling visibility into what is otherwise going to be an exercise in squinting through the darkness to follow the action.
Melisandre approaches the gates; taking particular note of Arya Stark on the battlements. The Red Priestess' record with young women is not great; we all remember that unnecessary and frankly dispiriting play she pulled on Shireen Baratheon before Stannis' campaign for the Iron Throne collapsed more heavily than the Australian cricket team's batting order against Pakistan.
Ser Davos Seaworth is not happy to see Melisandre, but she assures him he will not need to silence her beautiful soprano voice tonight as she'll be dead in just a matter of hours. Now generally you want to take a positive mental approach into a battle, but clearly Kate Bush is walking to the beat of her own 80s-style synthesiser.
It's time for the Dothraki to begin play, and in a mighty show of power, the entire mass of Screamers pushes forward in tight formation into the darkness. Ser Jorah is up there, along with Ghost, but it's not long before we start seeing those flaming arakhs extinguished. It's like the crowd waving lighters at the Rolling Stones at Altamont in '69, with the wights playing the part of the Hell's Angels.
Now one would think a team captain such as Daenarys Targaryen might have anticipated her loyal bloodriders would be wiped out by the zombies, but as stragglers and horses and Ser Jorah Mormont return to the main army, she gets angry and decides to bring forward her showstopper move.
"The Night King is coming," Jon Snow tells her. "The dead are already here," she fires back, before firing up Drogon into attack mode. Not to be left behind, the greenhorn dragonrider Jon mounts Rhaegal, and it's all a bit Daddy issues considering that dragon was named after Jon's real Dad, and he's switched from his typical on-foot, front-of-the-action Stark combat style to an airborn Targaryen assault.
Back on the ground, consistent performer Grey Worm is at the head of the Unsullied as they face a sweeping tsunami of the undead opposition that truly is a sight to be seen - if in fact you can see it due to everyone wearing black uniforms for heritage round.
Tormund "Flame-haired Angel Man" Giantsbane only gets a glimpse of the wave before it slams into him; something he no doubt wishes Brienne would do, if she wasn't busy calling on her forces to stand their ground against the wight-wing attack.
Ser Beric Dondarrion is in there with his own flaming sword; and despite his hand-icap, Jaime Lannister manages an impressive early rescue of his commander Brienne.
Annnnnd here comes Drogon!
That familiar stirring music swells and Dany has Drogon strafe the front lines, with Jon following behind on Rhaegal in a beautiful sweeping double strike.
Jon spies the White Walker generals at the back of the Wight army and drops Rhaegal into a quick descent, but is caught up by a sudden roll in of a mist more disorientating than Lynx body spray.
Up on the battlements, Arya and Sansa are much impressed by seeing the dragons' mouth-iwork for the first time. Arya knows her call-up is coming, so she orders Sansa to the dugout (aka the crypts), hands her a dragonglass dagger, and advises her sister to "stick 'em with the pointy end". It's a classic callback, perfectly timed, another hallmark of this great series.
Let's take a look at the battle cam: as Dany's fire eases off temporarily, we can see Brienne, Jaime, Tormund, Pod, Gendry, the Hound and Ser Jorah still in the game, albeit covered by a fine sheen of falling ash.
To everyone's surprise, rookie reserve Sam Tarly is still standing, managing a few points here and there. Longtime teammate Dolorous Edd saves him from a forward strike and makes him get back on his feet; only to be stabbed through the heart and crash out of contention.
VALE, DOLOROUS EDD.


Jon is struggling to get Rhaegal out of the mist, but is almost taken out by Dany herself, as the two dragons slam into each other over a forest. On a personal note, friends, I for one am glad it was just the dragons banging into each other, but back to the action.
Tormund is first to call for the home side to fall back; he's backed up by Brienne, and Lyanna Mormont orders the gates opened.
Grey Worm orders the Unsullied to protect the retreat, and columns of fighters with no need for jockstraps form up block by block in a strong rearguard action.
The scrappers flood back into the castle as the wights continue to fling themselves onto the Unsullied's spears. Brienne, Jaime, Tormund, Pod, Gendry, Beric and Sam are still in play; and Arya Stark puts her dog in the fight, firing a flaming arrow into a wight threatening the Hound.
The Unsullied also begin to retreat, but after reaching the gates Grey Worm can see there's only so much his men will be able to achieve against the onslaught of the undead. He calls for the trench dug in around the castle walls to be lit.
This is it: Ser Davos' one job. Becoming Winterfell's air traffic controller, he waves flaming torches to indicate to Dany that now would be a great time for Drogon to give them all a light.
But oh no! Dany can't see! Her head is too far in the clouds!
Jon is no use; he's already landed Rhaegal on the walls of the Godswood after losing Dany in the literal fog of war.
Archers and foot soldiers are deployed to light the trench, but it's either too cold for the wood to burn, or they get tackled by wights before getting their torch over the line.
Enter once more Melisandre, helped by Grey Worm and the Unsullied, who form a scrum to protect her. She repeats her earlier incantation to create another in-FLAME-mation, am I right friends, setting the caltrops alight in the nick of time before the wight buzzers blow. You've got to have a lot of faith to be an elite acolyte, but you've also got to have a lot of faith… in yourself.
The trenches are blazing like college kids on April 20, which is good news for everyone except the Hound, whose lifelong fear of fire sees him quit the field, much to Ser Beric's chagrin.
~~~CRYPT CAM~~~
It's hard to be on the sidelines during a championship game, and being stuck in a subterranean gravesite with a crying baby has got to hurt. Tyrion may be a Most Valuable Thinker, but he's convinced he would be of assistance as a battle commander. To be fair, he may be right - so far the tactics used on ground level would make Sun Tzu blush.
Varys gives him a verbal slap down, saying he was lucky at the Battle of Blackwater Bay, that's all. It's Sansa who delivers the truth bomb - they're all useless. The most heroic thing all those out-of-condition "normal people" can do is accept their fundamental inability to contribute to their side's prospects of victory and wait for death looking tense but dignified.
Where Tyrion does have a win is in Sansa's declaration that he was the best of the men she was either married or betrothed to. Being better than Joffrey or Ramsay? A low bar, but still an important one to have jumped.
Sansa tells Tyrion it wouldn't have worked between them; Tyrion seems disappointed by her certainty. "The Dragon Queen," is her explanation. An alliance with Sansa would divide Tyrion's loyalties and become a problem for Dany. Interesting that Sansa should mention such a thing at such a time - she's indicating their teamwork is purely for this match, and she will be pursuing an independent Norths home ground should the odds be ever in their favour.
Missandei gets her one slam dunk of the evening when she claps back at Sansa dissing her girl boss Dany, saying without the Dragon Queen, none of you useless also-rans would even be alive to bitch about divided loyalties. After two episodes of being stared at like some sort of terrifying alien, no wonder she was ready to give some white people a Narth Maul.
To the Godswood.
Theon Greyjoy and Team Kraken have been keeping a close ear on the action. Theon knows with the trench lit, the game will come to them before long. He takes a quick time out to let Bran know how sorry he is about his earlier defection from Team Stark; but Bran is magnanimous in creepiness, and tells him everything he did led him back to his home stadium, so it's all good. The message here is that they're a team, they'll stick together, they'll have each other's backs.
Annnnnnnd Bran is OUTTA THERE.
"I'm going to go now," he says, and wargs for the first time in what seems like a long time. He takes over control of a bunch of ravens and/or crows, who flap up and over the battle scene and castle, flying south until they find...yes, it's the Night King on Viserion!
Here he is, Captain of the Undead, Chief White Walker, The Icy General, Mr Freeze - finally off the bench and into the sky.
Despite his relatively long distance from the action, NK flexes his frigid fingers (watch out, fellas, there are kids listening!) to inflict his first intervention of the match.
The wights have come to a standstill in front of the burning caltrops, a massed pile of unthinking, unfeeling menaces to society, sounds much like the current government, am I right, friends?
One by one they start throwing themselves onto the fire, slowly building a body pile to extinguish part of the fire. It's kind of like that M. Night Shyamalan film "The Happening", where trees go mad and make people kill themselves, except this isn't completely shit.
So after some setbacks in the form of being savaged by dragonfire, the wights have literally built a bridge and got over it, ha ha, can you believe it, Winterfell's not the only thing on fire here tonight, friends.
Ser Davos gives the signal to man the walls, as the game moves into its second phase - attacking and breaching the castle walls.
Jaime, Brienne, Pod, Tormund, Gendry, Grey Worm and Jorah all make for the battlements as archers ready their bows.
A World War Z-style zombie pyramid begins forming against the stone walls, with wights proving themselves pretty well adept at climbing for creatures with not much muscle tone left. One wonders how they've been working out enough, but clearly the NK has access to a bunch of 'roids. That kind of drug abuse is normally frowned upon in the world of high sports, but we all know Mr Freeze is the Lance Armstrong of the fantasy world.
Speaking of which, Mr Diestrong is spotted by Jon Snow, who nudges Rhaegal back into the air.
There's much effusion of blood as our A-Team slam their swords, spears and axes into the climbing vine of zombastardry.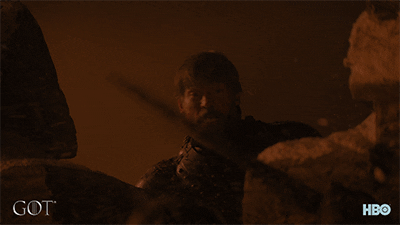 If we take in the wide shots, that is only absolutely f***ing terrifying image there of the onslaught.
Clearly it's too much for our home side, and the opposition start penetrating gaps in the defences, spilling into the castle proper.
There's some beautiful paired fighting between Brienne and Jaime, both saving each other from wights in quick succession. Sam Tarly is clearly wearing a magic wightproof vest as he is plucked once more to safety by veteran forward Ser Jorah Mormont.
The dragonglass caltrops work well as the wights spread into Winterfell like that STD I picked up after last year's Mad Monday, but it's a sheer numbers game at this point and those wights have a real advantage in being able to throw themselves several metres to the ground and just get back up again like Ben Cousins pre-rehab. And post-rehab, come to think of it.
Now you might be asking, where in all of this is valuable running back The Hound? Well, as is so often the case in these major events, panic has got the best of him, and he's quietly freaking out in a corner.
Nevermind that now though because HERE COMES ARYA STARK!
Yes, the Diminuitive Despoiler has fired new energy into the game, using her recently-acquired new bit of kit to slice and dice her way through the wights on the wall.
The Hound is still freaking out like Cougar at the start of Top Gun, unable to get back in the game due to anxiety. Beric tries to coach him out, saying they need him, but the Hound is fairly confident they're all just f***ed at this stage.
"Tell her that!" Beric roars, pointing at Arya who has just barrel-rolled down a staircase full of bodies then thrown herself onto a canopy to escape the undead.
ENGAGE HOUND PROTECTIVE MODE! Nicely done, Beric, just the right amount of pressure at the right time, and Hound is back in the game, dashing off to help Arya.
It's sad to see former Team Life hero Stampy the Giant, aka Wan Wan, burst into Winterfell as a zombified nightmare tower. The last time he did that was to help finish off Ramsay Bolton at the Battle of the Bastards, before dying heroically. You would have thought somebody would have burned his body, but apparently not.
It's up to little Lyanna Mormont to stand and face this walking Eiffel Tower of Ewww, and boy, can the girl scream a battle cry more fiercely than Mel Gibson in Braveheart. The Not Friendly Giant picks her up, squeezing her tiny body, and makes to bite her head off like she was a stick of kebab.
AND SHE HAS GOT THE BLADE OUT! With one last elemental scream, the Little Bear thrusts her dagger right in the giant's eye, totally Cyclopsing him to death.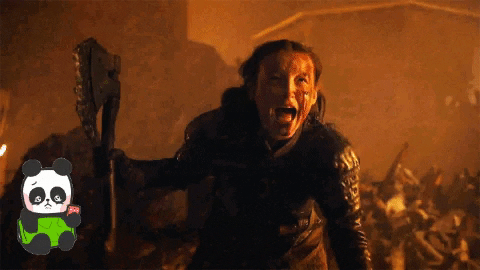 VALE, LYANNA MORMONT.
Let's check in on our airborne battalion. Jon and Dany are trying to flush out the Night King, but the stealth creeper jumps them first, chasing Dany down with Viserion's hot blue fire. Just as quickly, he's gone again, leaving Jon and Dany to nosedive to try to catch him.
Arya Stark is inside the castle now, bleeding from the face, making her way into the library for a quick break and perhaps a Gatorade bath. But there's no time, as somehow a bunch of wights have found themselves in there, possibly looking for self-care and wellness tips now their flesh has rotted away.
It's interesting to note the use of sound, particularly the lack of sound, in this sequence. It highlights in case we'd forgotten that Arya, like the worst kind of flatulence, is both silent and deadly.
Only the sound of blood dripping from her forehead onto the stone floor alerts a wight, but before it can grab her, she's gone again. She does the old dropped-book-switcheroo, before silently dispatching a lady wight through the jaw on her way out.
It's looking like a clean escape, until a nearby door breaks under a wight onslaught, followed swiftly by a similar action out of the room behind her. We leave Arya for the moment running through the corridors for her life.
~~~CRYPT CAM~~~
Bored and scared. Tyrion drinks. Loud noises and a battle outside the doors. Silence.
~~~~~~~~~~~~~~~~
The Hound and Beric search the corridors for Arya; she eventually appears through a door with a wight bearing down. Beric throws his flaming sword into the wight, and the Hound grabs Arya and runs. The pair smack down wights as they go, with Beric under siege behind them, but ordering them to keep going.
And BERIC IS DOWN! Stabbed multiple times by a group of zombies, he still manages to stumble into a hall behind the Hound and Arya. With no Thoros of Myr around, Beric is done for. Arya, who once put him on her kill list, is now saddened by his loss.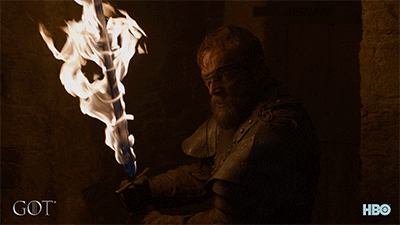 VALE LORD BERIC DONDARRION.
But there's no time for black armbands right now, as Arya has someone to meet.
That's right, Kate Bush has returned for the reunion she once told Arya they would have. "Here we are, at the end of the world".
With the Hound watching on carefully (one might even call him "The Man with the Child in His Eyes"), Arya informs Melisandre that she was right when predicted Arya would close many eyes forever.
With an encouraging nod, Melisandre repeats "brown eyes, green eyes...and blue eyes", and Arya's own peepers show a glimmer of recognition. As the wights start to bash down the door, Melisandre whispers to her a maxim she learned long ago.
"What do we say to the God of Death?"
"Not today."
ARYA IS ON THE MOVE. REPEAT, ARYA IS ON THE MOVE.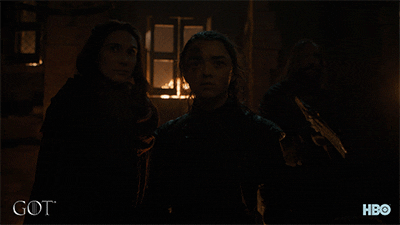 In the Godswood, Theon orders his Ironborn to "make every shot count" as the wights approach.
Overhead, the Night King fangs it towards the North Gate, letting Viserion rip through the stone with his mouth fireworks.
Then BANG! Jon Snow on Rhaegal sideswipes Viserion, obviously having learned a lesson on timing from Tormund's hug last episode.
The two get locked in a midair dogfight not unlike Maverick and Goose and those MiGs in the aforementioned Top Gun.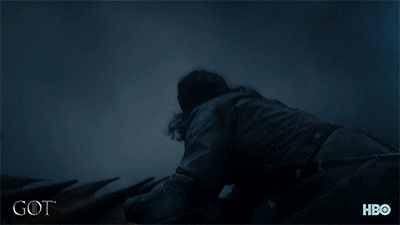 "The G-forces, the G-forces!"

Jon is having a hard time hanging on, and it's a real shame he didn't think to invent some sort of rope harness to help him stay onboard Rhaegal. Thankfully, Dany barges in and forces the Night King off Viserion. He falls, every so gracefully backwards, into the cloud below, his icy spear besides him.
But the damage has been done to Rhaegal, and the big lad crash lands into the snow outside the castle walls. He doesn't seem to be dead; perhaps just concussed. The team doctor will be called for a full evaluation.
Annnnnnnd it's on - Dany spies the Night King alive (a-dead?) and well, standing on the ground below her. She issues a firm "Dracarys" to Drogon, who proceeds to roast the frosted miscreant like single origin coffee beans.
Turns out the Night King is 85 per cent asbestos, and the flames have no effect on him, answering everyone's question last week at the battle planning session as to whether dragonfire can kill White Walkers.
The dude is more smug than Donald Trump post-Mueller-report, and reaches for his javelin to throw at Drogon. Dany manages to weave to the side and retreat; but the Night King doesn't seem to care. He sets off towards the castle, likely in search of Bran, his intended target.

Over to Jon Snow, who's drawn his Longclaw, ooer, am I right friends, and begun running down Napoleon Chill-to-the-Bonaparte.
Now I don't like to say that Jon Snow sometimes acts impetuously, without a full contemplation of likely outcomes against enemies he's met before on the field of battle.
Perhaps he suffered a slight brain injury in the fall off Rhaegal, and that has elevated his heart rate and resulted in a somewhat rash decision to go charging into a field of bodies near a creature well regarded for bringing bodies back into operation. Perhaps he felt this was his best chance of engaging with the NK one-on-one, his Valyrian steel sword now key to victory.
Even when he sees the Night King turn and begin his trademark "Come at me bro" Evil Jesus manoeuvre, he doubles down, breaking into a sprint to try to close the gap between him and the goal posts.
But it's no use, with wights - including many freshly killed Unsullied, Stark and Arryn knights - surrounding him about ten metres from the scoreline. One of them is in fact Dolorous Edd, who was most insistent his body be burned if he bought it. Sadly there was no time.
Inside the castle walls too, there is a great sense of "Ohhhhh, get FARRRRRRRRKED" as the small advantage the A-Team had started to build was kicked into kingdom come by the resurrection of everyone just dead, including sweet Lyanna Mormont, and the march through the gates of the White Walker generals.
~~~CRYPT CAM~~~
It was a big question ahead of this game - would the Night King recruit more dead from the Winterfell crypts? Surely there had been too many comments about it being "the safest place" in the castle for it to be any more secure than a rugby league player's pants after two drinks.
Gilly's the first to find out, turning around to see, oh yes, a bony hand burst through a sarcophagus. Now once again, it's not entirely clear how a long dead collection of bones has the strength to punch through a stone coffin, but magic is once again happening on the field and off here tonight.
Everyone seems to react far too slowly, which I guess makes sense if you were new to the phenomenon of The Walking Dead, which is fair as this is HBO and that show's on rival network AMC.
Eventually Tyrion calls on the crypt crew to run, but not before a victim is claimed and dragged out.
~~~~~~~~~~~~~~
In the Godswood, Theon is gradually losing all of his Ironborn to wights, while Bran is who the f*** knows where.
Jon is saved from certain death by Daenarys, who clears a path through the opposition with fire, and orders him to go to Bran.
Now if Dany were so inclined, she totally could have let Jon buy the farm at that moment, slyly getting rid of a rival to the Iron Throne in such a way that no one would call the umpire over.
But for all her faults, Dany is not a cold-blooded killer like Cersei, and I do believe she loves Jon and would hopefully try to work things out in a way that would be favourable to her, but not hurt him too much. If nothing else, she's smart enough to realise at this moment they're on the same side, and Jon Snow alive is still more valuable than Jon Snow dead.
Sadly, she's not watching her tail, and wights start piling on to Drogon's back and sides like flies on a sheep's dag. He manages to shake a few off, but in the confusion Dany slips off and falls onto the ground. Drogon takes to the skies in pain, yelping as he attempts to flick the wights off, giving the impression of a very large dog after an unwanted bath.
Jon's inside the castle now, with bodies and balconies falling around him. Tormund is there, slashing away, seemingly untroubled by the never-ending mass of death coming for him. All that giant's milk has done wonders for his stamina, and no doubt there's a team sponsorship deal waiting to happen.
Jon also has to walk past Sam Tarly in a seriously dangerous position - you can see Jon wants to help his friend, but has got his radar set on Bran and cannot diverge from the plan.
Grey Worm is still in the game; Brienne is still in the game.
Theon is still in the Godswood game, but rapidly running out of Ironborn and flaming arrows.
Bran "Three-Eyed Raven" Stark is still who the f*** knows where.
Outside, Jorah and Dany are still in the game, Dany picking up a dragonglass sword in an attempt to help her main man out.
~~~CRYPT CAM~~~
It's chaos down here, with God knows how many long-dead Starks coming back for another bite at life.
Tyrion and Sansa are hiding behind a sepulchre, trading deep and meaningful looks as their peers are brutally slaughtered behind them. Tyrion even kisses Sansa's hand in a gesture of affection and protection. Facing imminent death is always a good time to put past enmity aside. Perhaps that's what The Don and Douglas Jardine needed after Bodyline. Topical sporting reference.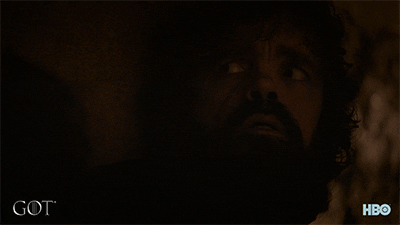 "It's the end of the world as we know it... and I feel fine."
~~~~~~~~~~~~~
Viserion lands on the battlements and proceeds to make like Jim Morrison and trash Winterfell like a hotel room.
Dany and Jorah are still holding off the hordes outside, barely. Theon stands by Bran, fighting by hand now.
Brienne, Jaime, Pod and Gendry struggle to stay upright. Sam weeps on the ground.
It's unmitigated chaos; no direction, no group plan, just sheer fight or be killed adrenaline.
The music's turned all somber and muted, the screams muffled and echo-y, always a good sign we're reaching peak despair in a match. All that has to happen now is a move to slow-motion and we know we're at the endgame.
Annnnnnnd here comes the slow motion.
The Night King strides into the Godswood like a villain in a western; this town ain't big enough for the both of them.
Theon brings down wight after wight, until eventually they all stop moving in on him, and the circle opens to let the Night King and Entourage approach.
Bran returns to the present to give Theon a message, an absolution, knowing what Theon is about to do:
"You are a good man. Thank you."
Once, Theon saved Bran from a wildling by shooting him down with his bow. Now, he takes up a spear to try to defend the little lord once more. He charges at the Night King, hollering in pain and anger and grief and regret and a small measure of peace that this is him done, that he can be both a Stark and a Greyjoy, and that he has proven it now.

The Night King seizes his spear, snaps it, and drives half of it through Theon's middle. The last son of Balon Greyjoy, famous rebel against the Starks, dies on Stark soil.
VALE, THEON GREYJOY.
Jon's way to the Godswood is still blocked by Viserion, and the one-time King in the North is almost on the verge of losing hope, as every attempt to push forward sees him take cover amidst piles of bodies.
Jorah is taking hit after hit for Dany, and still getting back up, each and every time. There is nothing to do but get back up, and back up, and back up, for his Khaleesi. Long has his personal love for Dany transformed into something higher, more pure - an intense desire to protect her life beyond the boundaries of normal ability.
The Night King stands over Bran, and finally Bran has met his match in terms of intense staring capability. There's some sort of non-verbal communication between them - the NK tilts his head at one point. Is he gloating? Or recognising something in Bran? Either way, he reaches back for his sword - just as a wisp of air catches one of his general's hair.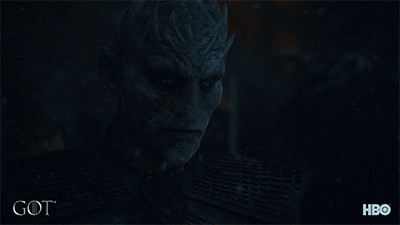 Jon tries one last time to get past Viserion; summoning all his strength, all he can do is let out a primordial scream.
The Night King's arm is lifting his sword.
Behind him, out of the gloom, from nowhere, comes ARYA STARK.
He flips, grabs her by the throat. In pain, she releases her left hand, her dominant hand, in which she's holding Catspaw, her Valyrian steel dagger. There's a song of steel on the wind as it drops into her free right hand, a bait and switch move similar to one we saw her pull on Brienne when they sparred together.
Arya takes a breath and uses her last remaining strength to plunge Catspaw into the Night King's gut.
He shatters, he shatters!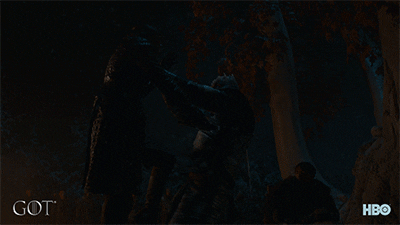 What a finishing move by Arya Stark.
The dagger once used to attempt to kill Bran, has now been used to save him.
A dagger that Bran handed Arya when they reunited, as it was of no use to him. Now we know why.
The White Walker generals follow suit in an explosion of ice shards.
The wights begin collapsing all around the castle.
Viserion roars one final time and falls.
The wave of wight death spreads out of the castle into the battle scene.
They fall in front of Ser Jorah, no more bad guys to shield Daenarys from.
Immediately, he hits his knees, overcome.
Dany cradles him as the last Bear takes his last breaths. He struggles to say something, but fails. All energy is gone now, only love remains, and that is eternal.
Dany cries, and Drogon lands behind her, wrapping his wings around her in protection and sorrow as she marks the death of her longest-serving, most loyal and most brave adviser.
VALE SER JORAH MORMONT.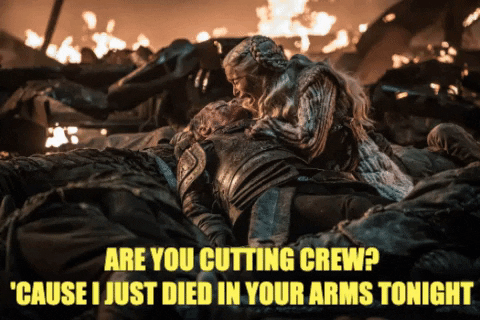 In the courtyard, Grey Worm, Tormund, Gendry, Pod, Jaime and Brienne are still alive.
In the crypts, Tyrion, Sansa, Varys, Missandei, Gilly and Baby Sam are still alive.
Out of the corridors, the Hound, Davos and Melisandre are still alive.
As dawn breaks on the horizon, the Red Woman strides out amidst mountains of bodies, pulling the red stone necklace from around her neck. It falls to the ground, and the light in the stone fades.
She walks out to where there is no more death, shrugging off her rich robes to reveal her true self, aged, broken with white hair. It is time to die.
The sequence is Arthurian in its majesty - Morgan La Fey taking herself out to Avalon.
Game over.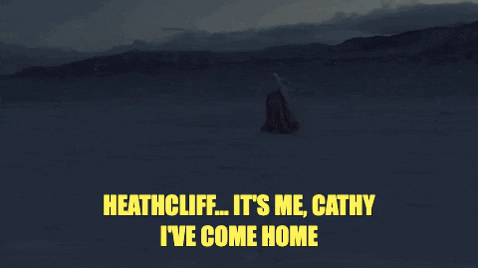 ~~~~~~~~~~~~~~~~
Well, I'm exhausted, and I didn't even fight in that thing.
Some key conclusions:
We probably should have lost a few more of the A-Team: Jaime, Brienne, Tormund, Gendry, Grey Worm, Pod, Missandei all survived. Surely not all of them will make it through the final three episodes alive?
I'm keen to see if anything further develops between Sansa and Tyrion after their sweet moments together in the crypts.
My expectation/longtime personal fantasy scenario that Jon Snow would face down the Night King in an epic sword battle was flipped totally on its head. Jon was essentially neutered in the fight by the sheer weight of enemies blocking his way to the Godswood. I was thrilled to have my predictions pulled out from under me. Oh, if only I could pull Jon Snow from out under me…
For those pondering how Arya made it past all those White Walkers and wights to get to the Night King, remember her key stealth skills were brilliantly set up in the library sequence. She was trained by Syrio Forel to chase cats, and learned how they moved without noise. Don't think it wasn't poetic justice too that she used Catspaw to kill the Night King. As the Mother of Kittens, this is a brilliant victory for all cat lovers.
The Azor Ahai prophecy is either all fancy bullshit fairy stories - or at least doesn't apply to Arya. Arya is a highly trained assassin protecting her brother and home. That's what gave her strength; not some mystical "princess who was promised" narrative. If Azor Ahai is still something to be dealt with in the show, it's entirely related to Jon, Daenarys, and their relationship to each other and the Iron Throne.
Follow-up point - the fall out from Jon's true origin story hasn't even begin to hit yet.

I'm keen to find out what the hell Bran was doing while warging, and whether there's any further backstory to the Night King, the White Walkers, the spirals, the dismemberments... surely there is stuff he can tell us?
And most of all…
The Night King may have been an unknowable supernatural force of evil with the ability to raise the dead and cause untold destruction… but the real villain is still Cersei F***ing Lannister. And I could not be more delighted.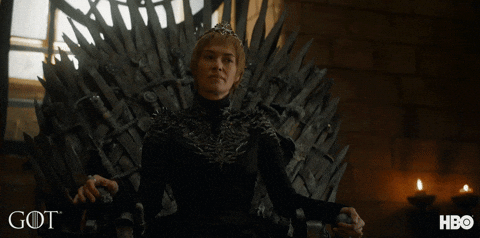 "It's a nice day for murder. But then, that's all days."
Yay! Best Moments
Arya Stark, obvs
Zing! Best Lines
For an episode very light on humour, Varys came through with some existential drollery:
"At least we're already in a crypt."

Eww, gross
Everything was horrific and full on about this battle, but nothing super gross, you know? More just intense violence, not creepiness. This category was dominated by Littlefinger, and since his demise we've been bereft of truly skin-crawling moments.
Boo, sucks
Losing some dear favourites was always going to hurt, but there was a certain triumph to all of them. They all got a moment, and we farewell them with pride, not the horror we did with Ned Stark or Robb Stark or Oberyn Martell, whose journeys were cut short.
To finish this recap, let's have a celebratory song, to honour the memory of one in particular: Ser Jorah Mormont.
With apologies to The Kinks:
I met him at my wedding back in old Pentos
Where he gave me some books and told me that his name was Jorah
J-o-r-a-h Jorah
Jor-Jor-Jor-Jor-Jorah
He helped me to learn about Dothraki life
'Cause I had to get used to being Khal Drogo's wife oh my Jorah
J-o-r-a-h Jorah
Jor-Jor-Jor-Jor-Jorah
Well I'm not the world's most sensible Queen
But I'm certain I don't really want his peen oh my Jorah
Jor-Jor-Jor-Jor-Jorah
Well I'm not bad, I'm just chasing a throne
So for now and likely always he'll be Ser Friendzone oh my Jorah
Jor-Jor-Jor-Jor-Jorah
Well, when Drogo died all tragically
This Mormont man was valiantly
The one who fell right down on his knees
And said "Khaleesi I will do what you please"
Well, I'm not the world's most rational Queen
'Cause eventually I kicked him out of Meereen oh my Jorah
Jor-Jor-Jor-Jor-Jorah
Jor-Jor-Jor-Jor-Jorah
Jor-Jor-Jor-Jor-Jorah
Jor-Jor-Jor-Jor-Jorah
His skin turned all grey, I showed him the door
I said "fix the flaw", he got cured of disease
Then I looked at Jon, and Jon at me
Well that's the way I now want it to stay
With my Jon Snow bae and my trusty sidekick Ser Jorah
Jor-Jor-Jor-Jor-Jorah
He has a little cousin called Lyanna
She's a bad-ass boss-bitch hot-shit star, ain't she Jorah
Jor-Jor-Jor-Jor-Jorah
Well we're now fighting wights at Winterfell
My knight's out front giving zombies hell
He saves my life in a final stand
Jon may be my boy, but Jorah's my man
Well I am the world's most passionate Queen
and in death nothing can come between me and Jorah
Jor-Jor-Jor-Jor-Jorah
Jor-Jor-Jor-Jor-Jorah
Jor-Jor-Jor-Jor-Jorah
[repeat]
Beloved readers, thank you so much for your patience as I got this epic blow-by-blow recap done - I will have to check numbers but I believe this is my longest one yet. I probably need to learn how to edit.

Once again, thank you to my amazing Patreon subscribers. I honestly couldn't do this without your support. This week, my particular kisses to Mark F, Lisa B, Heather H, Peter B, Phillipa S, Damien M, Pam M, Alison G, Barbara C, Nan H, Ed D, Cathryn, Monica K, Elle W, Karen J, Heidi Anne M, Irene K, Keith C and Heather F. Bless you sweet hearts.

If you'd like to join my Patreon, you can click here to sign up. There are some tiers you can join, but honestly, I am just grateful that people read and enjoy my recaps. Throwing me cash is the cherry on top.

Until next week, when Cersei re-enters the fray!
6 Responses to 'GoT Raven On Recap: S8E3 "The Long Night"'
