Why hello, sexy Throners. You look so lovely and nubile in the candlelight. Let's all disrobe and enjoy some cosy naked time here on this surprisingly plush bed.
What's that, you say? You just want to talk about Game of Thrones? About how it's back, after 595 days of waiting in agony? About how all our favourites reconvened, reunited, reacted to or rode each other? Are you seriously going to chitter chatter over me, trading minute details and emotional responses while I attempt to have my wicked way with all of you?
Well, a woman simply can't CONCENTRATE on getting her beginning away (it's hardly an end, thank you very much) with all of this TALK. Honestly, you'd think the WORLD was about to END listening to your gory obsession with dragons and fire and missing eyelids and things that are in no way compliments about my sexual prowess. What do you think this is, a true crime podcast?
Bah. I see there's no use trying to convince you. Sexy times will have to wait. For now, there is only time to RECAP GAME OF THRONES.
Here we are, back together after so long, dear readers!
Much has happened. They took pictures of a black hole that wasn't the gaping heart of Australian politics. Notre Dame Cathedral caught fire in Paris while I was writing late into the night, a heart-breaking sight that made me think immediately of Cersei blowing the Sept of Baelor, because that's what happens when your brain moors itself near-completely in Westeros.
Much has stayed the same. I still have three foster kittens, maintaining my "Mother of Kittens" title. I am still unchallenged as "The World's Foremost Game of Thrones Recappespondent", mostly because I made that term up and am still the only person on Planet Earth to use it.
I'm sure we are all a little older, a little wearier, a little ground down by the relentless task of Existing In This World.
Thank heavens then, that Existence has been improved for six final, glorious weeks with the return of The Greatest Television Show That Ever Was Or Will Be.
Let's just ignore the Impending End, and focus on the Now. For the Night is Dark and Full of Terrors, Winter is Coming, What is Dead May Never Die and in the end we will all be cleansed by Fire and Blood.
The Raven On recaps have returned. I wish us all good fortune in the words to come.
S8E1: Winterfell
As usual for a Game of Thrones season-opener, this episode was very much about blowing cobwebs off dusty chess pieces, moving them into position, and setting up what's to come.
It was always going to be dominated by the arrival of Daenarys Targaryen, Jon Snow (sigh) and a mighty army descending on Winterfell. But the throughline for me this episode was the nature of allegiances. How are they formed? What bends them, what breaks them? Is trust a necessary ingredient, or can you ally in bad faith? How does the blowing away of assumed knowledge affect your allegiances?
And what kind of deal do you make with a dragon that's staring you down as you play tonsil hockey with his Mum?
Let's begin then, as the episode does, with the march into Winterfell of Dany, her massed army of Unsullied, Dothraki and dragons, and her *seemingly* equal partner, Jon Snow.
Our first glimpses of the huge host are from the eyes of young Lord Ned Umber, which interestingly enough will feature again later in this episode (gulp). As predicted, their entry mirrors the very first episode, when King Robert Baratheon's travelling party marched into Winterfell - they even played a twist on King Robert's theme music.
It was no surprise to see the point of view pass from Ned Umber to Arya Stark, not waiting in the castle with the official party, but taking in the sights from the parade route through Winter Town, not dissimilar to how she watched that first arrival years ago.
Daenarys and Jon ride side by side in the middle of the Unsullied, all regal and serious, but with the odd look of delight from Dany. This is her first official reception as Queen on the Westerosi mainland; it's understandable she's looking forward to it.
I was actually quite cross with Jon when he didn't even notice Arya, but then, why would he have cause to look? He's Mr Serious Lord Ally to Hot Lady Dragon Queen now, and he's expecting everyone to be up at Winterfell.
Arya has further Emotions when she spies the Hound plodding along, dour as ever, and Gendry, looking quite rugged atop his mount (ooer). Can we expect a "Genrya" coupling this season? Does Arya even have space in her life for romance, given she seems to derive the most personal satisfaction from beautifully executed executions?
There's a rather uncomfortable moment when Grey Worm and Missandei, along with a bunch of Dothraki, pass by town folk throwing them narrow-eyed suspicious looks. Their skin is dark, not something you normally see 'round these here parts, pardners. Come on, Winter Town, please don't call the cops on them for no reason. There will be excessive force deployed, but it ain't gonna be by the white people.
The first lines of the season are fittingly given to Tyrion and Varys, riding in a carriage, and fittingly for me, they're jokes about testicles. This show just KNOWS me. I feel SEEN.
Drogon and Rhaegal arrive in a blaze of sound and fury, soaring over the snow in a display of wonder not seen since the end of the Official Winterfell Summer Box Kite Competition.
Everyone's a bit scared, except Arya, whose eyes light up, and Sansa on the castle battlements, who's more "OK, cool, this is a thing, I can deal."
The main party roll into the castle, and we get our first moment of real emotion from Jon, when he spies Bran, all calm, all knowing, staring at him from his wheelchair.
We'll get more into Bran's preternatural gazing, but for now, let's follow Jon as he bolts down from his horse, runs to his little bro, and smooches him on the head. "You're a man!" he exclaims. "Almost," deadpans Bran (deadbran?)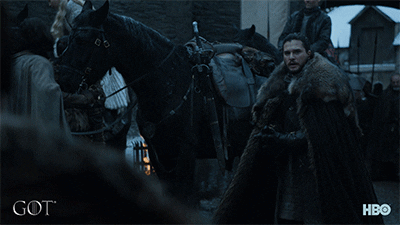 "I'm still All Bran. Which is incidentally why I look this creepy all the time."
Now you may have noticed I have yet to refer to Jon Snow with any of his usual epithets - My Beloved, Lord of #Junkmound, Possessor of #Abs, King in My Pants.
Because, kittens, I've got to admit - I feel a little distant from him. Disconnected.
Like...it's possible that...I might be losing him.
That this whole *thing* with Daenarys might not have simply been a one-off abhorrent aberration, but an ongoing - *gulp* - genuine affection.
I'm sure everything will be sorted out once the truth of what Donald Trump might describe as Jon's "oranges" is revealed. But I'm just being a bit tender with my heart right now. Just bubble wrapping it for a moment, to perhaps prevent the damage of a full smash later this season.
Sansa gave Jon an efficient but affectionate hug; she was then introduced to her new Queen, Daenarys. Sansa was polite, gracious even, but we all saw the guardedness in her countenance when it came to the Mother of Dragons.
Bran, though, ain't got no time for this polite bullshit. He abruptly informs Dany that the Night King has turned Viserion, an excellent way to quickly impart that piece of knowledge in less than three seconds of screentime.
The tension deepens when the northern lords and ladies gather in the Great Hall to discuss preparations for the Oncoming Storm. Little Lord Umber pops up again, requesting more wagons to properly evacuate his home, The Last Hearth. And then, YEAAAAAHHHHHHH, it's our one true Queen, Lyanna Mormont, asking some Very. Pointed. Questions about what in seven hells Jon Snow has been doing.
Lyanna, remember, was the one who first hailed Jon Snow as King in the North at the end of Season Six, and so it's only right that she be the Enola Gay dropping nuclear truth bombs onto the Hiroshima that is the North.
Yeah, that was possibly not the ideal metaphor.
Anyways, Jon does have the stones (and the pillar, but I'm trying not to think about that, remember) to defend his actions. "We needed allies, I chose the North over my crown" is his base line argument.
He's noble and such, and he is doing the right thing as he sees it, but he is being a bit selfish to think that Sansa, Lyanna and others wouldn't interrogate his choices. He was ACCLAIMED as a king, remember, he didn't take the crown and inform everyone it was now Jon's World, and You're Just Living In It. That was an allegiance forged by the people who voted for their King in the North, with or without a democracy sausage. Jon accepted it reluctantly, sure, but it was not necessarily 100 per cent his to give up.
Dany is all cock of the walk - as far as she's concerned, she's Queen, she's the bizzzzzznezzzzz, Jon's only doing what's right and proper. She even gives Sansa some SERIOUS SIDE-EYE when the Lady of Winterfell questions how they're going to feed not only the greatest army ever assembled, but two dragons.
There's something of an elemental reversal here as it's Sansa who fires up with the question "What do dragons even EAT?" and Dany who brings the CHILL with "Whatever they want."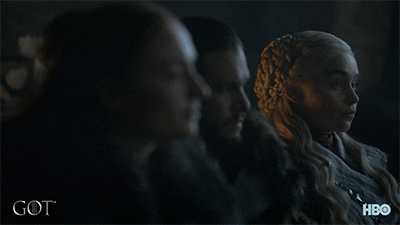 It's once again left to Tyrion to be the voice of reason. He's insistent that they must all fight together - even the Lannisters. Yes, Tyrion reveals to the Northmen that his hated family's forces are heading north to join the fight. They are NOT. HAPPY. LAN.
But Tyrion is convinced. He even bails up Sansa a bit later to explain just why he thinks Darth Cersei is going to come through for the Rebellion, even if he has absolutely no proof she has withdrawn the fully operational Death Star option from the table.
It's a great reunion between the one-time husband and wife (or ARE they still married? The internet is ablaze with deep dives), particularly Sansa's rejoinder that the last time they saw each other, Joffrey's wedding/murder, "had its moments".
Tyrion thinks Cersei has something to live for - aka, bubba onboard - but Sansa is blown away he could be convinced. "I once thought you were the smartest man alive," she quips, then stalking off, shaking her head in disbelief at her younger self.
I love this because Sansa and Tyrion are both acutely aware of Cersei's treachery, but they come at it from different angles. Sansa was but a girl when she was brought under Cersei's control after her Dad's head was nipped off. She grew up being intimately acquainted with Cersei's cruel and inhuman nature. She also spent a fair bit of time with Chief Creep Littlefinger, and not to mention the pure evil of Ramsay Bolton. The girl has a First Class Honours in the University of Terrible Awful People, How to Spot Them and Why To Treat Everything They Say as a Lie at Best and a Deliberate, Manipulative and Likely Painful Trap at Worst.
Tyrion, though, was a grown man when the events of season one rammed into his cosy world of tits and wine. Despite having the surface knowledge that his sister and father hated him, then achieving a more in-depth understanding after numerous attempts to bump him off, somehow he has a vague sense of being bulletproof when it comes to Cersei's murderous intent.
He once said Cersei's only two redeeming features were her cheekbones and the love she bore her children. He is banking on that maternal instinct to come good in the great war against the army of the dead. That's his weakness.
Sansa knows better. Sansa knows Cersei would sooner give up day drinking than help not one, but now two brothers who are putting a literal life or death fight before her. No wonder she's disappointed in Tyrion's supposed intelligence.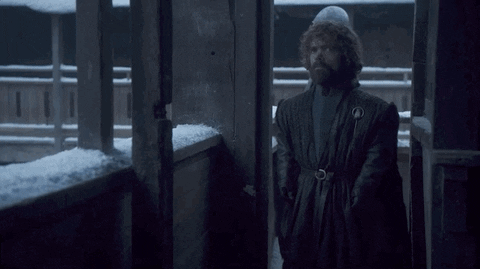 "I was so out of that guy's league."
Ser Davos Seaworth (kill him and answer to me, HBO) is not from the North himself, but he knows a thing or two about forging and managing useful alliances. Let's not forget he had to tone down his initial outright hostility to Red Priestess/80s Chanteuse Kate Bush to a general wariness, in order to maintain his friendship with his former King, Stannis Baratheon. Their wobbly detente was destroyed when Melisandre burned Shireen at the stake, but you know, fair cop. That's not a frenemy you need anymore.
He's since been a key adviser to Jon Snow, both as he negotiated with the free folk to join forces, and subsequently as a sort of quasi-hand-of-the-king-in-the-north, helping him with Dragonstone negotiations with Dany.
The Onion Knight knows enough to understand Northerners distrust foreigners, outsiders. And how best to make an alliance? Remove the "D" from "dalliance" it seems.
"A proposal is my proposal," he says, checking out Jon and Dany's annoyingly convincing body language as they inspect the campsite outside the castle walls below.
Oh Davos, you old romantic. "Old" being the operative word; Tyrion takes offence at being lumped in with Davos and Varys as the "elder statesmen" of the Targaryen/Stark political machine.
Dany, meanwhile, is concerned that her attempts to get on Sansa's good side early with all those lovely compliments about her beauty have not worked as she hoped.
She doesn't think my girl Sansa likes her, but Jon, ever the peacemaker, says it's just because Sansa doesn't know Dany yet. Dany's like, sure, but even if she doesn't like me, she must respect mah authoritah (is South Park still a reasonable relevant cultural touchstone?)
The pair is interrupted by Dothraki horsemen bringing news that the dragons have only eaten 18 goats and 11 sheep, indicating they may be starving themselves in protest at being flown up to the cold, damp wasteland of the north. They are reptiles after all (one assumes).
It's like the time I started a hunger strike to protest not being allowed to go to Schoolies at the end of Year 12. Although that lasted approximately 23 minutes before I remembered I didn't drink, I really didn't care about the beach, and that no teenage rite-of-passage could ever be as good as food.
So.
Let's talk about the dragon-riding.
I must admit to having mixed feelings about this sequence. On the one hand, of course I loved it, because it was joyous and funny and it gave the opportunity for Jon Snow to practice dragon-riding before an emergency situation where it might be needed. Dany's quips to Jon about holding onto "whatever you can" and that should Rhaegal not want him to ride, then "I will miss your company, Jon Snow" were pretty ace.
On the other hand, I was surprised they would choose to burn the dragons' limited calorific intake on a joy flight; and I really wasn't expecting the first time Jon Snow rode a dragon that it would be an almost shot-for-shot remake of Neville Longbottom's first attempt to ride a broomstick in Harry Potter and the Philosopher's Stone.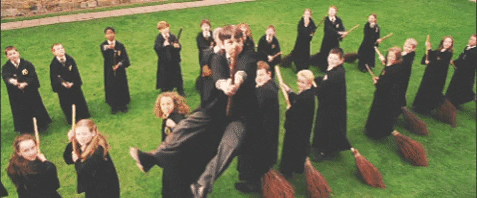 As a quick sidebar, given JK Rowling seems to love throwing out new revelations about the Potterverse from 10 years post-Deathly Hallows, has she clarified at all about how painful broomstick riding must be? Think about it - you have a wooden stick clamped between your crotch for potentially hours at a time. Are those wizard robes padded like weekend biking dudes' lycra pants? Or do they cast anti-chafing spells before they take-off? You never saw that explained in Harry Potter. Nobody ever complained of wang splinters. If anything, side-saddle should be the default riding position in the wizarding world, but no, it was always proper cowboy-style. I'm surprised it was just the Slytherins who were irritable.
Back to Jon. I did somewhat anticipate his first dragon ride would be at a Rather More Dramatic Moment; having to hop on to help out in a battle or something like that. I guess points again to HBO for flipping my expectations on that, making it about the sheer joy of flying rather than the grave necessity of mounting a living scaly missile to deliver maximum payload.
Dany's never let anybody else attempt a dragon-ride; never set up a little $2 a ride charity stall like they do with Shetland ponies at school fairs. Clearly she trusts Jon enough.
But do the dragons trust him? When they get off to look at waterfalls and… well, get off, Jon has to be reassured that Drogon in particular is OK with his Mommy pashing on with a new boyfriend.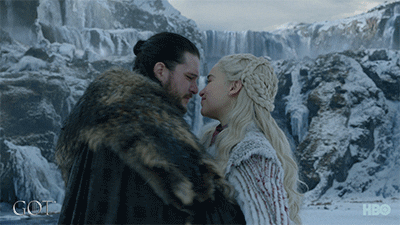 Drogon and I share a similar point of view.
Sigh. Again, the distance, the bubble wrap. I'm just trying to work through the Jon/Dany Boning Reality as best I can, lest I descend into madness, 19th century gothic fiction anti-heroine style.
That's probably a wise move, because back at Rancho Winterfell, it's Sansa who explains more clearly to Jon the danger he's placed them in by resigning his kingship, and asks the key question - did you bend the knee for duty… or love?
Let's head to King's Landing, where Qyburn has terrible news for Darth Cersei - the White Walkers have breached The Wall. "Good," the Queen replies, with one of her trademark smug grins. She's watching as Euron MacGregor's Iron Fleet sails back into town, complete with 20,000-odd Golden Company mercenary soldiers, and it's giving her life.
Cersei sees little threat from an army of the dead: if anything, she considers them more of an ally-from-afar, a convenient way to dispatch her enemies to the North while not risking her own troops.
In the Throne Room, we're introduced to Golden Company Captain Harry Strickland, a striking-looking blond chap with a throaty Teutonic accent I find highly jarring for a character named "Harry Strickland". To my mind, "Harry Strickland" should be some sort of Cockney geezer, referring to everyone as "Guv'Nor" and saying things like "Cor blimey, Runner Bean, I felt a bit Moby Dick coming over on the old Nanny Goat" before breaking into a musical number from My Fair Lady.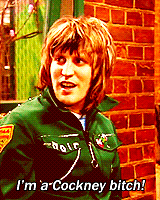 Someone with the poise, and dare I say it, ethnic features deemed very popular in both Nazi Germany and several James Bond films, should have a name like Reinhold Von Wolfgang Dieter-Meyer Hammerschlag. Not "Harry Strickland", for Friar Tuck's sake.
Cersei is Not Impressed by the fact that Harry Me 'Ol Steiner didn't make like Hannibal and bring his Battle Elephants from Essos (incidentally my new urban hip hop band name) because they would be too long in quarantine or something.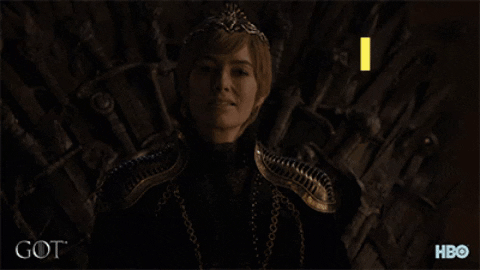 Harry's dismissed, but Euron Greyjoy's keen to sniff out a reward for his work bringing the ships and soldiers to Cersei.
Initially, Cersei's not taking any of his crap, telling him only that he's a loyal servant to the Iron Throne and they would marry when the war was over. She even delivers the cold line "You want a whore, buy one. You want a Queen…EARN HER."
And that, my friends, has inspired…THE FIRST RAVEN ON SONG PARODY OF SEASON EIGHT!
I didn't know if these song ideas would return to me in 2019, but clearly the muse is hovering about, at least this week. Cersei's declaration put me immediately in mind of the ultimate Queen of Pop, Madonna, and on the 30th anniversary of its release, I am proud to present:
EXPRESS EUR-SELF
Come on girls
Do you believe in love?
'Cause I do for political reasons
And they go something like this
Just try out second best baby
Put Euron to the test
You know, you know, you've got to
Let him express how he feels
And maybe then you'll know his word is real
You don't need elephants
But you're pissed they didn't show
Golden Co. they came very fast
You were really aghast, oh, oh
Your request didn't go to plan
There's no way you'll get a pachyderm
And you're already queen on a throne
But this jerk wants you to take his sperm
(So much gross sperm)
Just try out second best, baby
Even if it's in jest
You know, you know, you've got to
Let Euron loose his large eel
And maybe then you know the bitch will heel
Your twin brother has deserted your keep
And there's nary a peep from your kids
Prophecies left you sad and alone, so
You might as well bone crazy squids
You deserve to keep the crown
But what if people see your belly has grown?
Euron wants you right up the duff
Might as well have him think the babe's his own
(The seed he's sown)
Just bounce with second best, baby
Count yourself mighty blessed
You know, you know, you've got to
Let him undress his winged keel
And baby, you won't be the one to kneel
Express Eur-self
You've got to make him
Impress himself
Hey hey hey hey
So if you want a new toy, make love to Greyjoy
He may be a snot but he's more ready than knot
He's got his niece tied up below deck
But Theon's proved he's still her comrade
Now the yoke has gone from around Yara's neck
He'll need all your mercies
The sleaze
Just settle second best, baby
Tell him he beats the rest
You know, you know, you've got to
Make him forget Jaime's zeal
And baby just talk up his sex appeal
Express Eur-self
So you can de-stress yourself
Hey, hey, hey, hey
So if you are feeling torn, just bed a nut Ironborn
Finesse what he's got, oh baby ready or not
But onboard ship, Euron MacGregor had been very insistent to his captive, niece Yara Greyjoy, that he was going to, ahem, get to know Cersei better, and starts playing the manipulative, "hey you owe me" crap that shows he's clearly learned nothing from the #MeToo movement.
Cersei makes to leave, but then she changes her mind. She flips her head back suddenly to Euron, giving him some sort of nod of approval, and he snakes past The Zombie Mountain (oh hi there, you appalling monstrosity), and follows her.
Next time we see them, Euron's buckling his grotty, fishy pants back up and patting himself on the back for a job well done. Cersei, clad in a soft lavender nightgown which is the first colour we've seen her in since she blew up the Sept of Baelor, is already trying to drink away the memory.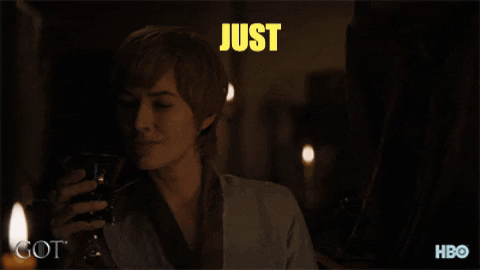 Euron wants to know if he's better than Robert Baratheon (remember him?), and Jaime Lannister. Cersei says he enjoys risking his head - but that she likes his arrogance.
Was that it then? Was that why she let him get his Casterly Rocks off? Surely she finds him revolting? Or is his kind of self-confidence really a turn-on for a Queen who gets off on power? After all, she would often bed Jaime after making life hell for somebody else - maybe she really does have a bitch itch to scratch and she may as well test out Euron's clammy fingers.
The alternative of course is that she quickly worked out a way of potentially covering up her Jaime Lannister legacy pregnancy with a quick tumble or two with Euron. Given he touched her stomach and said he was going to put a prince in her belly, it's a live theory - but did Cersei think of it before he did? Is that what prompted her to change her mind?
Meanwhile Bronn's attempts to drown his sorrows in sex are not going well. His three sexy girls are more interested in gossiping about the latest victims of war than satisfying the dictums of whore.
"Can we stop talking about the f***ing dragons?" he pleads, before Qyburn interrupts from the end of the bed. I assume this was a brothel; the settings looked similar to Littlefinger's old whorehouse (RIP, but don't, you creep), but emptier, and more bundled up, like there's not a lot of disposal income around for ladies of the night. It's sad when impending continental doom hurts the economy, isn't it, climate change deniers?
Anyway, there's clearly no privacy policy in place because Qyburn just appears like a coldsore after using a tester lipstick. There's no knock, just a "Sir Bronn of the Blackwater?" Ugh, why aren't these people more pathologically awkward about sex like normal human beings?

What, you don't all have sex like this?
Qyburn has an offer to Bronn, direct from Cersei. She wants him to go after both Jaime and Tyrion, and dispatch them with the crossbow that was made for Joffrey, and later used by Tyrion to kill Tywin.
"That f***ing family," Bronn says, echoing the sentiments of EVERY VIEWER EVER.
Qyburn waggles his eyebrows as he tells Bronn that if Darth Cersei raised him up to be her Hand, despite being expelled from the Citadel, imagine what she would do for the man who took out her treasonous brothers?
Now as Ned Flanders might say, this is a dilly of a pickle. Could Bronn actually go through with the assassination of the Lannister Bros? He's a sellsword, through and through - but he's been close to both of them, put his life on the line to save them. Does that mean anything to him?
I recall, in the deep dark of foggy memory, a famous declaration Tyrion made to Bronn on their first bromantic walk together through The Vale: "If the day ever comes when you're tempted to sell me out, remember - whatever their price, I'll beat it."
I hope Bronn hasn't forgotten that, and will turn up at Winterfell in time seeking only a bigger wagon full of gold to join the real fight. And don't think I didn't notice that Bronn-belly he was sporting as he put his shirt back on. Could Bronn have lost his edge after losing Jaime to the North? Maybe he's just looking for a good excuse to get out of the capital.
Out on the Blackwater, the quiet sleep of Euron's ship is disturbed by the pffffthhht of arrows, fired at the eyes of Ironborn guarding his prisoner Yara.
Her main guard falls through the door with an axe in his forehead, before Theon Motherf***ing Greyjoy walks in with his baby blond curls all grown back.
He frees Yara, and she does the only thing appropriate for an Ironborn Queen to do - she gives him a Pyke Kiss right in his stupid cowardly noggin and he hits the deck. But then, heartwarmingly, she offers him her hand and pulls him back up. T'was the most beautiful metaphor for their relationship.
Later, we see the pair at sea, heading for the Iron Islands. Yara reasons that with Euron and his fleet in King's Landing, he cannot hold his home territory - and Queen Daenarys may need somewhere to fall back to should those pesky Death Zombie Nightmare Shufflers overrun her forces.
Theon half-heartedly says he will follow where she leads, but Yara's picking up what Theon's putting down. He wants to go to Winterfell to fight the White Walkers alongside Jon Snow, who gave him such sweet absolution at the end of Season Seven. "You can be a Greyjoy and a Stark" - and having rescued his sister, this move would fulfil both. Theon is a fairly certain candidate for fairly certain death, and it makes a poetic point that he die in the service of Winterfell, the castle he grew up in, but then sacked and burned. Despite his physical injuries, he's got the figurative balls to honour all of his allegiances.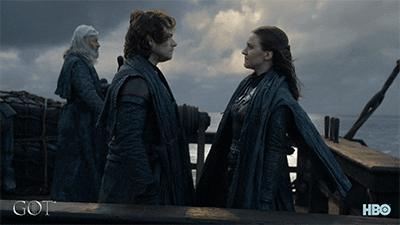 "Let's mark this moment with a trademark warm Greyjoy embrace."
Can we get a big F***ING HUZZAH for the return of Tormund Giantsbane? He and Beric Dondarrion and a few other escapees from Viserion's attack on Eastwatch-by-the-Sea turn up at The Last Hearth, which is looking more like the "before" shot in a home renovation TV show than a typical stronghold. There's snow everywhere, the furniture's been ruined, and unless they can do something quick with plywood and Dulux Wash & Wear Semi-Gloss the damn thing is never going to sell at auction.
The posse hear noises coming from below the great hall, and head down to scope it out. It's all very tense until the two separate groups jump out at each other like the world's worst-organised surprise party. The other group is, of course, a group of Night's Watchmen led by Acting Lord Commander Dolorous Ed.

Beric's flaming sword is the handy medieval fantasy world version of the torch app.
Again, another sight for sore eyes - this show just has a way of making you adore minor characters enough you'd be quite happy to see them have a spin off procedural drama called "Tormund & Tollett: The Cold Hands of Justice".
Tormund asks if they've found anything, and Ed gives them an ominous look and leads them down to a chamber. Skewered on the wall is poor young Ned Umber, the centre of a spiral of leg and arm segments stretched out across the stone.
As our favourite bearded warriors discuss the meaning of this message, we see the Umber boy's eyes flick open behind Tormund's head. The eyes, so incredulous at the sight of Jon and Dany just days earlier, are now terrifyingly dead blue. He mouth opens into brain-shattering scream, and he lunges for Giantsbane.
Thankfully Beric Dondarrion has that very handy flaming sword, which he seems to be able to control as easily as the torch app on your smartphone. Very convenient for finding your way; and a hundred times more effective at snuffing out the screaming undead.
Beric stabs the creature, and the flames spread outwards around the limbs, making a bloody, fiery feature wall.

"I don't know much about art, but I know what I like."
The spiral of body parts is a recurring image through the season: from the very first pre-credit sequence of dead Wildling bodies; to the Night's Watch slaughtered at the Fist of the First Men; to the rocks around the Tree of Knowledge; to the symbols carved into the caves of Dragonstone. Is it a symbol that all the evil of the White Walkers stems back to one central point, aka The Night King? Could it be that it's a signpost to a way to undo the curse, to reverse the magic of the world? Or are the White Walkers just a little bit f***ing extra?
Whatever the meaning, they have to get to Winterfell to warn everyone the Army of the Dead is on the march. Thankfully Dolorous Ed and the Night's Watch brigade brought horses with them; but as Tormund says, they'll have to last if they can beat the Night King & Co there. Gods speed, my glorious ginger bastard. You, Beric and Ed may just be my secret favourite alliance of all.
Let's head back to Winterfell for the show's final one-two revelatory punches.
We start with Sam Tarly going from a blushing servant of Ser Jorah "No More Greyscale" Mormont and asking Dany for a pardon for nicking off with some Citadel books and his father's Valyrian steel sword, to getting quite startlingly upset at the revelation that Randall and his brother Dickon were flambéd for insolence after the Loot Train Battle.


To control his feelings, he steps out for a breath of oh-so-fresh air, to find Bran waiting patiently in the courtyard, apparently for "an old friend". Bran then hassles Sam to tell Jon about his true parentage, because it's best coming from his bestie.
I'm a little circumspect about Sam's anger here about his family; his Dad treated him woefully, and while he loved his brother, he surely would have understood the rules of war. But it works well for what happens next.
Jon is lighting candles for dead Starks in the crypts when Sam stumbles in. I had forgotten that Sam hadn't been in the initial reunion greeting party; it makes sense now, he was avoiding Jon lest he inadvertently yells "SHE'S YOUR AUNTIE!" in front of everyone.
It's Sam who really hits home the theme of allegiances here. He probes Jon about his decision to give up the crown, and how he's had to make decisions about whom to put to death and whom to spare. Jon says he's no longer king; Sam says he always bloody has been.
And then, the revelation: Your Mum was Lyanna Stark. Your Dad was Rhaegar Targaryen. You are Aegon Targaryen, Sixth of His Name, ALL OF IT. Jon stumbles back, his face more shocked by this news than by anything the Night King has ever thrown at him.

"Actually, I'm not sure I CAN handle the truth."
Jon cannot believe the Right Honourable Ned Stark could have lied to him his whole life; Sam insists it was to protect him.
Then the key question of alliance.
"You've given up your crown for her...would she do the same for you?" Sam asks, righteously, about Danaerys.
Jon has no answer. The rest of the planet does though - OH HELL NO.
As much as Jon has clung to his bastard identity, she has clung to her Queenhood. Jon has never wanted crowns; Dany has. She is similar to someone in this regard… who would that be… oh yes. Cersei.



Man, I wish I could take credit for this meme, but this is all Reddit wizardry.
This is going to make for some interesting discussions next week.
Finally, in a beautifully paced piece of comic comeuppance, Jaime Lannister arrives at Winterfell, shaking snow out of his less-and-less blond hair after a long ride north. He's fulfilling his promise to fight for the living; but had not paid much thought to whether ghosts from his past might show up.
And then there he is, Bran Stark, stoic, calm, and in full precision laser-beam creep mode. Hello, old friend.
Jaime's face at this moment can now forever replace the phrase "Ohhhh…. Shiiiiit" in the dictionary.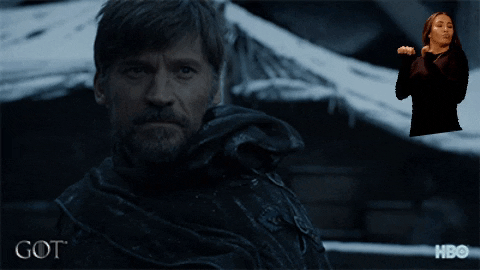 Last time he saw Bran was a split second before he shoved him out of a tower window where he'd caught Jaime and Cersei in flagrante incesto.
I love that Bran has been carrying this secret around for who knows how long since he got his spooky powers. This is his personal reckoning, he doesn't need anyone else to take it fom him.
Jaime will face trial of course; but weirdly enough I think Bran will emerge as his best hope for salvation. Bran's accepted his lot; if Jaime HADN'T have pushed him out of that window, he never would have become the Three-Eyed Raven, and have access to the entire world's browser history. Worth it? We'll find out.
And look, I've got to say I'm weirdly on the "Save Jaime" train. I need to see he and Brienne have a heart to heart. And given Tormund will no doubt return to Winterfell next week, there are some delicious allegiances just waiting to be made or broken.

Yay! Best Moments
Arya's reunions with Jon, The Hound and Gendry were my favourite parts of this episode. How glorious was she, stalking Jon Snow into the Godswood, sneaking up behind him, having a brief "how did you survive?"-off, then jumping into his arms EXACTLY the way she did the last time she saw him, as they were both about to leave Winterfell in season one?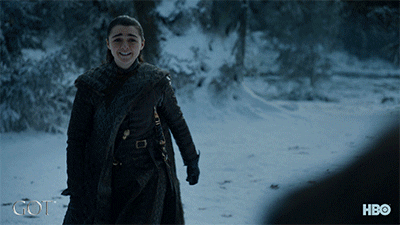 "And I've... had... the time of my life."
This was an important moment too, for we saw Jon expressing his frustration with Sansa, and how he wished Arya could have helped him with that. Arya tartly replies Sansa is the smartest person she's ever met - and let's not forget that girl has a list that includes Tywin Lannister, Jaqen H'ghar and Hot Pie. She reminds him that Sansa is only acting to protect the Stark family - and Jon should remember that's his family too. It's her own message to him to take his newfound alliance to Queen Daenarys carefully - that he's a Stark first.
Arya's surprising of Gendry and the Hound in the forge was almost as satisfying - when the Hound sauntered up to stare at her, I had this compulsion to yell "HUG! JUST HUG!" at the screen. There was so much tension and for some reason I just wanted these one-time bitter enemies to just hug it out.
But the Hound, true to form, did the next best thing - he called her a cold little bitch. "I suppose that's why you're still alive," he huffed, zipping out of there before she could mock his grudging respect for her.
Gendry, however, was much more obviously happy to see his old friend from the Kingsroad, Harrenhal, and the Brotherhood Without Banners, and Arya threw him a few almost-flirty looks.
She even asked him to create a new weapon for her, which looked something like a cross between a sword, a spear and a bow. Oh, she has plans, my deadly little delight. Please murder many zombastards, and soon.
Zing! Best Lines
Lots of contenders here - given not a huge amount of action/death was taking place, the writers really punched up the comedy moments. But my favourites were:
Dolorous Ed: Careful, he's got blue eyes!
Tormund Giantsbane: I've always had blue eyes!
and...
Qyburn: Poor girl. The pox will take her within the year.
Bronn: (coughing up wine) Which girl?!?!
Eww, Gross
When Euron MacGregor put his hand on Cersei's stomach and said he's going to put a prince in her belly, I threw up a little in my mouth.
Boo, sucks
I was reliably informed we would see Ghost return this season, and I did not see Ghost return this episode. I want to see Ghost return this episode. Yes, Dany's dragons are cool, but isn't it time Jon gets a moment to introduce her to his amazingly cool fantasy beast? And a lot of dog-owners talk about how their pets sometimes creepily watch them while the humans try to make the beast with two backs. Maybe Ghost could rival Drogon in the intense stare stakes?
Also - how the HELL did Jorah Mormont arrive at Winterfell, where Lyanna Mormont had a vocal role and WE DID NOT GET A MEETING?!?! DENIED!
Thank you all once again for your patience, dear readers!
As many of you know, I was asked to be a guest on the first live episode of Foxtel's Game of Thrones companion show, Thrones 360. I also did my show "Raven On" in Sydney the night before filming, so it was a PACKED few days.

Make sure you follow my Facebook page to get updates, recap notifications and other fun content.
Most of all, I have to thank the dedicated readers who subscribe to my Patreon page. Your support is life-affirming; I owe every last one of you. Here are a just a smattering of names I owe big time:

Amanda G, Andrew T, Brent L, Brittany W, Caroline M, Catherine F, David C, Elana M, Gemma L, Greg R, Hazel F, Jessica WW, Joe R, Judy C, Kyla K, Kylie F, Leanne, Liam B, Mark W, Michael N, Michelle, and MJK. Thank you, marvellous people!
7 Responses to 'Raven On Recap: GoT S8E1 "Winterfell"'
